Indicator 6: Migrants by type of migration
Indicator 6: Proportion of older persons who are migrants by type of migration (national and international) by age, sex, and ethnicity.
Indicator is fully reported?

No, it is partially reported.

Type of indicator
Basic demographic indicator
Other relevant indicators
In New Zealand, "internal migration" is used instead of "national migration".
Our findings

Internal migration

Internal migration means the movement of people within the country. Census data is used to track whether people have changed address in the last five years.

For older people, we found that data by sex had been published, but not by age or ethnicity.

Figure 1 shows internal migration of people aged 65+ by sex between the censuses in 2001 and 2006. About 68% were living at the same address in 2006 as 2001. Of the people who did move, most moved within the same territorial authority.

International migration

Figure 2 shows the number of arrivals[1] and departures[2] for people aged 65+ for the year ending 30 June 2012.

How entities use the data
The data is published for general use and used by organisations (such as local authorities, district health boards, and businesses) in their planning.
Entity responsible for this indicator

Statistics New Zealand
Figure 1: Internal migration of people aged 65+ by sex, 2001 to 2006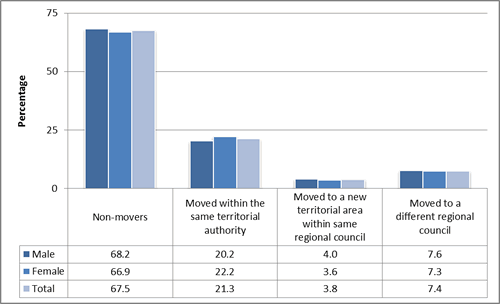 Source: Statistics New Zealand (2007), New Zealand's 65+ Population: A statistical volume, page 146, www.stats.govt.nz/browse_for_stats/people_and_communities/older_people/new-zealands-65-plus-population.aspx, which is based on 2006 census data. The data excludes people who did not give a New Zealand address for the question about their address five years ago.
Figure 2: International migration of people aged 65+ by sex, for the year ended 30 June 2012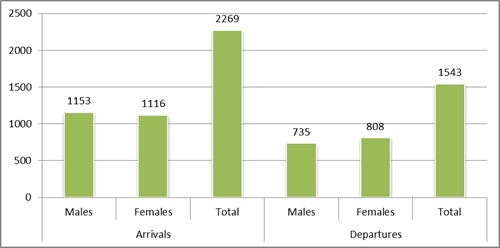 Source: Statistics New Zealand (2013), Demographic Trends: 2012, Table 5.03, www.stats.govt.nz/~/media/Statistics/browse-categories/population/estimates-projections/demographic-trends/2012/5-itm.xls.
[1] Arrivals include overseas migrants who come to New Zealand intending to stay for 12 months or more, and New Zealand residents returning after being away for at least 12 months.
[2] Departures include New Zealand residents leaving for an intended period of over 12 months, and overseas visitors leaving after staying at least 12 months.