Indicator 46: Reported neglect, abuse, or violence
Indicator 46: Reported incidences of neglect, abuse, or violence towards older persons by age, sex, and ethnicity.
Indicator is fully reported?

No.

Type of indicator
Outcome indicator
Our findings

Elder abuse is defined as:

a single or repeated act or lack of appropriate action, occurring within any relationship where there is an expectation of trust which causes harm or distress to an older person". It can be of various forms: physical, psychological/emotional, sexual, financial, or reflect intentional or unintentional neglect.[1]

Older people can also be victims of crime and sometimes offenders specifically target older people.

Knowledge about elder abuse and neglect mainly relies on data published by Age Concern, which the Ministry of Social Development contracts to provide elder abuse and neglect prevention services.[2]

Age Concern reports data in two-year periods and the number of cases suspected and confirmed varies. From 1 July 2010 to 30 June 2012, an average of 3.6 cases was reported for every calendar day. Of these, elder abuse or neglect was confirmed for an average 1.9 cases for every calendar day.

However, incidents may also be reported to other agencies and individuals, such as general practitioners, district health boards, other social service agencies, the Health and Disability Commissioner,[3] New Zealand Police,[4] or the Financial Intelligence Unit,[5] and the Health Quality & Safety Commission New Zealand. Therefore, Age Concern's data (in Figure 1) does not indicate the national prevalence of elder abuse.

How entities use the data
To prevent, detect, respond, and monitor progress in reducing the occurrence and impact of neglect, abuses, or violence towards older people.
Entity responsible for this indicator
Ministry of Social Development and others.
Figure 1: Suspected and confirmed cases of elder abuse and neglect reported to Age Concern, 1996-2012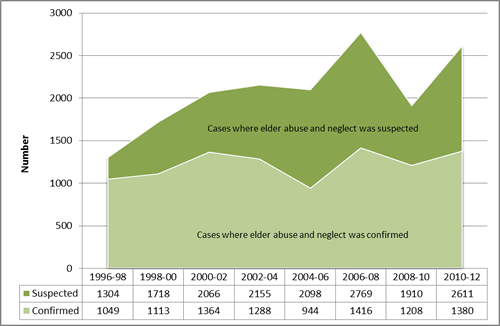 Source: Age Concern.
Notes
The number of clients receiving intervention from Age Concern's Elder Abuse, Neglect, and Prevention services is dependent on the number of services operating and the number of staff employed by these services to provide intervention. This affects the number of suspected cases that are reported, and the number of cases that are confirmed.
In 2008, Age Concern introduced a national database for collecting all client information and case notes. At this time, definitions and criteria for collecting data were standardised and procedures were put in place to ensure that cases would be counted once (when they were closed).
In 2011, Age Concern introduced Elder Abuse, Neglect, and Prevention Practice Guidelines, which set out the standards for delivering elder abuse, neglect, and prevention services. This helped to further improve the quality of data collected.
---
[1] www.who.int/ageing/publications/toronto_declaration/en/index.html.
[2] www.ageconcern.org.nz/safety/elder-abuse/key-statistics-about-eanp.
[3] Incidents reported to the Health and Disability Commissioner could be categorised as a breach of one or more rights in the Code of Rights. See www.hdc.org.nz/the-act--code/the-code-of-rights/the-code-(summary).
[4] The Police report monthly and official crime statistics at www.police.govt.nz/service/statistics/. These reports do not include demographic information about victims. Data about victims is under-recorded and the Police are taking steps to improve the data collection about victims (and also offenders).
[5] The Financial Intelligence Unit (www.police.govt.nz/service/financial) receives suspicious transaction reports from financial institutions, which indicate that older people have fallen victim to financial scams, romance scams, and other frauds.