Mark Evans
Director Sector Engagement, Parliamentary Group/Local Government Group.
Phone +64 4 917 1500, email enquiry@oag.parliament.nz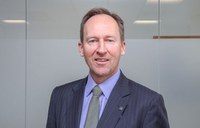 Mark is currently Acting Assistant Auditor-General, Parliamentary Group.
Mark joined the Office of the Auditor-General in November 2010. He served the Office as Sector Manager, Parliamentary Group before being assigned to lead the Office's inquiry into the Saudi Arabia Food Security Partnership in 2015. He left the Office in 2017 to take up a two-year secondment in the Department of the Prime Minister and Cabinet, National Security Group. He returned in 2019 as Sector Manager responsible for finance and central government agencies before taking up his current position as Director Sector Engagement.
As Director Sector Engagement, Mark is responsible for managing a team of sector advisors and leading support to the Office's sector teams in achievement of their objectives.
Before joining the Office of the Auditor-General, he was Private Secretary in the Office of Hon Dr Wayne Mapp. He has held senior roles in Defence and Economic Development, was a former lecturer in Politics, and has a background in biological science.
Page last updated: 23 December 2022