David Taylor
Sector Manager, Local Government.
Phone +64 4 917 1500, email enquiry@oag.parliament.nz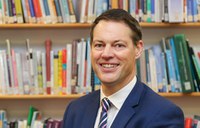 David joined the Office of the Auditor-General in November 2021. His main focus is the Office's work in Auckland and has responsibilities for Auckland Council and its council-controlled organisations, and the three Auckland based district health boards. David also manages the Office's relationships with City Rail Link Limited, Tamaki Redevelopment Company Limited and the Museum of Transport and Technology Board.
Before joining the Office, David advised Ministers on housing and urban growth issues at the Ministry of Housing and Urban Development.
David has experience in strategic planning and policy, having worked across a range of topics including housing, infrastructure, economic development, and climate change. This includes roles at the Ministry of Business, Innovation & Employment, Auckland Council, the Greater London Authority, and the Ministry of Housing, Communities & Local Government in the United Kingdom.
Page last updated: 24 December 2021