Ethics, data collection, analytics, and algorithms – not just for data nerds and privacy geeks
At the March 2019 Leaders Integrity Forum, we were reminded how important it is to never lose sight of the person, family, business, iwi, or community behind the data points you're working with. Assistant Auditor-General Melanie Webb recaps what was discussed...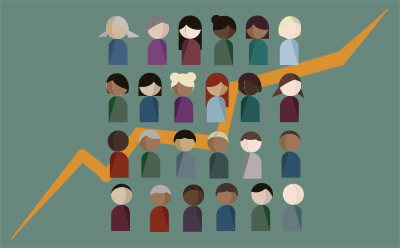 The March gathering for the Leaders Integrity Forum was held less than two weeks after the Christchurch mosque shootings. Appropriately, we started with some time to quietly share our reflections on the impact of that atrocious event on our country, our respective organisations, and our staff.
When Andrew Hampton opened the forum, he noted that New Zealand had been targeted because of the values that our nation holds dear, but it was inspiring to see those values so clearly on display afterwards. And it was poignant that the focus of the discussion was on data ethics – keeping people at the centre of what we do.
The first speaker was Liz MacPherson who is our Government Statistician and Chief Executive of Statistics New Zealand. She is also the Government Chief Data Steward, which involves a broad focus across the public sector when it comes to building people's trust and confidence in how the government is using data about them.
Liz's opening message was a reminder that behind every data point is a person, a business, an iwi, or a community. She's always mindful of that and takes her responsibility as a kaitiaki of New Zealanders' data seriously.
As a timely and topical example of the debate about ethical data stewardship, Liz mentioned the current questions about Facebook's responsibilities for what is posted on its platform. After the Christchurch attacks were live streamed and widely shared on Facebook, there has been strong debate about what it means to be an online platform, what Facebook's ethical responsibilities are, and what regulatory models are appropriate – particularly for content moderation.
Liz talked about the fact that data is an incredibly valuable resource and has the potential to do great good – but only while people have trust and confidence in how that data is used. Data ethics is about making moral judgements about how data is collected and analysed and being transparent about those judgements. It means being very clear about how you're protecting people's personal information, what you're using the data for, and even how you're analysing it.
Another important focus of data ethics is the use of algorithms. As technology and data analysis methods advance, it remains important for human oversight (and moral judgement) about how data is reviewed and decisions are made. Liz wondered aloud about the controversy around Air New Zealand's price increases after the Christchurch events – did the price of flights to Christchurch increase in the following days simply because of an algorithm making supply and demand assessments? In contrast, Air New Zealand's subsequent decisions about flight availability and cost were the result of human intervention and a sense of social responsibility.
Keeping people at the centre of data requires thought about how to give appropriate consideration to the views of the communities and key stakeholders who will be affected by decision-making tools. And there are more complex questions to think through too – how to audit algorithms to ensure appropriate accountability, or whether decisions made by computer algorithms are legally reviewable.
Keeping people at the centre also means thinking actively about how the world is changing. For example, policy changes can mean that not everyone who ought to be in your data set is actually in it – and that can mean they miss out on information, services, or money they might be entitled to.
Speaking of services and money, the second speaker was Jon Duffy, who used to work for TradeMe as the head of Trust and Safety. These days, he's the Assistant Privacy Commissioner and a big focus of his presentation was on the need for the public to understand and engage with the use of data.
Jon argued that if we're truly focused on keeping people at the centre, we need to take a hard look at the terms used by data experts and seek to humanise the language. He questioned whether most New Zealanders would understand what "data portability" meant, or what an "algorithm stocktake" would mean to them.
That means softening the hard edges of jargon – but we can't be misleading. Sometimes accuracy calls for the use of complex language. But, most of the time, we can and should try to ensure that the language used to talk about data is not a barrier for people trying to understand how their information is being used.
Jon's other strong message was about maintaining trust. Data ethics is not just about what the law allows you to do, but also about ensuring you have social licence to use it in the ways you intend to. Folks will stop trusting you with their data if you use it in ways they didn't anticipate – even if those uses are beneficial to people. It's vital to understand the people whose data you hold and their tolerance for how that data is used – and if you're not sure, ASK THEM.
It was interesting to hear the ensuing discussions about publicly sharing the code that agencies are using to analyse big data to allow scrutiny and transparency. And a focus on ensuring the right people with the right mix of skills are working on that code – both in terms of technical expertise and the ability to make ethical judgements.
The participants were clearly in agreement that data ethics is actually all about keeping people at the centre. But ironically, there were also comments about the need for New Zealand to have a trusted data eco-system. We may still have a little way to go in humanising the language.