Stronger together: the case for diversity and inclusion
In today's fast-paced and changing world, we can't do our best work without access to a wide range of views, knowledge, and experiences. So how does the public service make sure it gets that diversity? Melanie Webb recaps the latest Leaders Integrity Forum.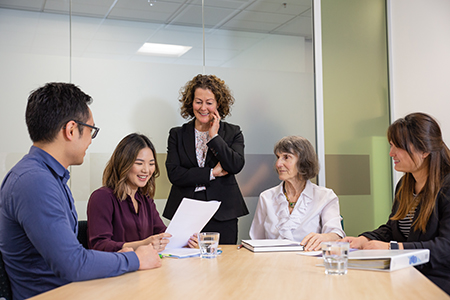 After a highly regarded term as the head of the Treasury, Gabriel Makhlouf is heading overseas to take up the reins at the Central Bank of Ireland. When Peter Hughes introduced Gabs to the May meeting of the Leaders Integrity Forum, he highlighted the steely nerves, smarts, and courage that Gabs has brought to his leadership role at the Treasury. 
Those same qualities of strength and resolve have been useful in one of Gabs' passion projects – taking one of the leading roles in the public sector charge on diversity and inclusion.
You might wonder why you'd need nerves of steel to be a champion of diversity. After all, having a workforce that reflects the population that you serve just makes sense, doesn't it? Leaders understand that their organisations are stronger when they are more diverse. The ability to debate ideas properly because the people in the room have a range of experiences and views inevitably results in higher quality policy advice … The evidence in support of improved decision-making when a diverse group of individuals contribute is well established. James Surowieki's The Wisdom of Crowds is a useful starting point on this issue.
Apparently it isn't obvious to everyone. Gabs was clear that resting on "it's the right thing to do" doesn't cut it. Some folks will be dismissive … others may strongly oppose the concept. His advice to the leaders in the room was to get the background evidence together and make the case. Rather than assuming that the value of a diverse workforce is common sense, put the evidence in front of people. There's plenty of evidence to support the fact that organisations that reflect the society they serve are more effective than those that don't.
So what's our public service actually doing about this? A lot, from what we heard. The State Services Commission and a group of public sector chief executives have agreed some targets and objectives, and there are different groups tackling different issues.
There is a Gender group which is focused on ensuring that women are participating at all levels in the Public Service. Their first priority is to tackle the gender pay gap. The Ethnicity group has quickly learned that the first hurdle in increasing ethnic diversity in the Public Service is to improve the data we have on workforce ethnicity. The Disability group is looking to educate leaders about the wide range of international commitments that New Zealand has signed up to – there's a toolkit on the website of the State Services Commission with more info about those.
The fourth group calls itself the Rainbow group, because LGBTQIA+ can be a real mouthful of an abbreviation. A lot of coffee is required to get that right each time. The Rainbow group has discovered that New Zealanders largely want to be inclusive of folks in the rainbow community but simply don't know what they can do to make a difference. (And for any public servants in the LGBTQIA+ community, there's a survey going on – the SSC's keen to know just how easy it is (or isn't) for people to be themselves at work.)
So what's the Treasury doing, given that Gabs has been instrumental to this diversity and inclusiveness effort and he's in charge of the Government's financial policy house? He's been doing a lot, from the sounds of it.
The Treasury has been setting a great example. For example, it has adopted "blind recruiting" practices in its graduate recruitment process, which means that certain information (names, gender, ages, location, and schools) is stripped from an initial job application. That information is only progressively revealed, as necessary, as an applicant moves further through the application process. Blind recruiting is one way to overcome the unconscious biases we all have that can get in the way of an entirely fair process.
The Treasury has taken that further and had staff undergo unconscious bias training. Confronting the existence of those biases can be uncomfortable, but valuable. Having found it difficult to attract Māori staff, the Treasury has invested not only in training in te ao Māori but also in forming working relationships with iwi and looking for analytical skills in schools other than just accounting and economics at universities.
Gabs mentioned the importance of visible leadership – he talks about diversity and inclusiveness when he's at work in the Treasury but he also talks about it when he's out and about. This means that staff hear directly and indirectly that their boss is genuinely committed to a diverse workforce.
Monitoring the diversity changes and improvements isn't quite enough, because making sure the workplace is inclusive is where the rubber hits the road. It's much harder. Workplace culture changes always are. Gabs, however, is convinced that the effort is worth it. The Treasury is stronger, Gabs is stronger, and the advice given to Ministers is better when it has properly considered and been informed by a wide range of views, knowledge, and experiences.
There was lots of food for thought in this meeting, especially as my Office is currently looking at our own People strategy. Greater diversity in our workforce will improve our organisation's performance too … as well as it being the right thing to do …