James Mulcahy
From auditor to soldier.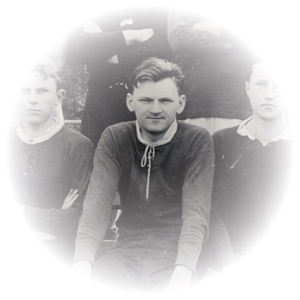 James Mulcahy was from Masterton and joined the Audit Department in September 1911. By the outbreak of WW1, he had attained the position of Audit Examiner, Class VII.
James applied to join the New Zealand Expeditionary Force in July 1916, aged 22.
When recruits applied to the New Zealand Expeditionary Force to become a soldier, they had to make a "Statement of Attestation", in which they answered questions about where they were born, where they work, and their state of health.
In answer to a question about whether he had ever been rejected for military service, James said he had been rejected because of poor eyesight. He was examined by a Medical Officer, who said that his eyesight had improved since a previous examination and he was now fit to join the New Zealand Expeditionary Force.
James married in October 1916. His wife, Mary, worked in the Government Statistician's Office.
James was sent to the United Kingdom in November 1916 with the 2nd Battalion, Wellington Regiment. After several months of further training at Sling (north of London), he was sent to France in March 1917.
James was wounded in action on 8 June 1917 at the Battle of Messines, when he was shot in his right leg. He was admitted to a field hospital initially and then transferred to Hornchurch Convalescent Hospital in England. He was discharged from hospital in September 1917, but declared unfit for further active service.
James was transferred to the New Zealand Army Pay Corps in London, where he attained the rank of Corporal in December 1917. James embarked for New Zealand in September 1918 and was discharged from the New Zealand Expeditionary Force on 23 December 1918.
James was awarded the British War Medal and the Victory Medal. He resumed his career with the Audit Department, as an Audit Examiner, Class VI.
A court case reported in the press on 20 March 1936 refers to a staff member of the Government Tourist Bureau, who faced of seven charges of stealing money. James, described as a Government Audit Inspector, said that, in examining the books of the Bureau, he had found discrepancies in the books controlled by the accused. The staff member confessed to stealing the money.
James retired from the Audit Department in 1952. At the time of his retirement,
he held the position of Audit Inspector, Palmerston North.
James died on 28 December 1967.