Clement Roy Edwards
From auditor to soldier.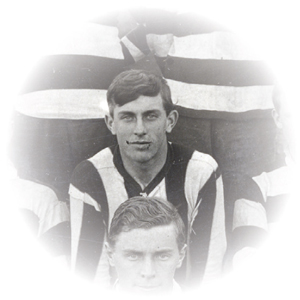 Clement Roy Edwards was from the Coromandel. He joined the Audit Department in February 1916 as a Cadet.
He joined the New Zealand Army Pay Corps of the New Zealand Expeditionary Force in August 1918, aged 20. He was posted to London in November 1918, arriving in London after the war had ended. He continued with the New Zealand Army Pay Corps and returned to New Zealand in April 1920.
Clement was awarded the Victory Medal.
After his discharge from the New Zealand Expeditionary Force, Clement rejoined the Audit Department, as an Audit Examiner, Class VI, Wellington.
There is a report in the Evening Post of 6 February 1936 about some of Clement's audit work. It led to a successful prosecution. While auditing paperwork at the stores section of the Railway workshops at Woburn, Clement discovered a systematic theft of tin ignots worth £1,000. The storeman in charge of the workshop pleaded guilty to theft.
Clement was keen on dancing. A press report of 1930 describes the Audit Department dance held in August 1930 at the Miss Margaret O'Connor Dance Studio in Cuba Street Wellington, opposite the James Smith building. Mrs Edwards is described as wearing a cream, soft satin and lace dress. The Sunleys were at the same dance.
By the early 1940s, Clement had attained the position of Audit Inspector, Hamilton.
In January 1944, Clement and his wife were on holiday at a beach house in Milford, Auckland. On 7 January 1944, Clement unexpectedly collapsed and died of heart failure.