Introduction
From auditor to soldier.
The Roll of Honour board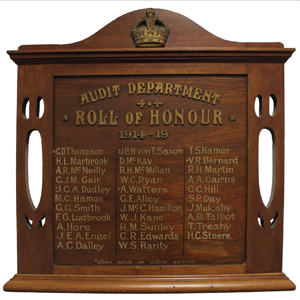 There is a plaque hanging on the walls in the Office of the Auditor-General in Wellington. The "Roll of Honour" board lists the names of 32 Audit Department staff who served in World War 1 (WW1) in the New Zealand Expeditionary Force. Five of the names are preceded by an asterisk – it marks those who died on active service.
In December 1916, a report in the Evening Post said that, on the afternoon of 22 December 1916, Audit Department staff from around New Zealand gathered at the Head Office in Wellington for the unveiling of the board.
The board is described as being of "handsome polished cedar-wood", with the names of those who had enlisted. Addressing staff, the then Auditor-General, Colonel Robert Joseph Collins, said that 22 members of the Audit Department were in training for the war effort. Space remained on the board for others "who doubtless would eventually take their places in the arena in the interests of liberty and civilisation".
Mr Collins went on to say that the board would:
… stand as a record of the self-sacrifice of these men who were fighting for us at the front; the very least we could do was to show that we honour them for their good work. While sympathising with the bereaved parents and deploring the loss of two popular officers [Clarence Thompson and John Saxon], there is consolation in knowing that their lives were not given in vain.
This book describes some of what happened to those 32 Audit Department staff during WW1. Where we could find it, information is also provided on their lives before they were sent to war and what happened to the 27 who returned.
The details we present for each soldier have been drawn from service records, newspaper reports, and published histories of the brigades that Audit Department staff served in.