Claude Channon Hill
From auditor to soldier.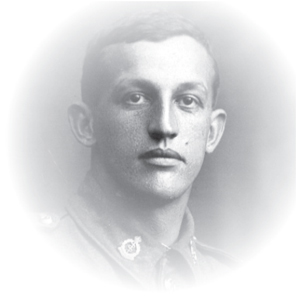 Claude Channon Hill joined the Audit Department in March 1915 as an Audit Examiner, Class VII.
He joined the New Zealand Expeditionary Force in September 1915, aged 24.
Claude was promoted to the rank of Lance Corporal in November 1915, and was posted to Egypt in February 1916 with the New Zealand Field Ambulance Corps.
In August 1916, he was sent to France with the Field Ambulance Corps. Stretcher-bearing was one of the major tasks of Field Ambulance Corps personnel. Casualties had to be carried by stretcher for several miles, either in trenches or over ground that was deep in mud and impassable by motor or horse transport.
In November 1917, Claude was transferred to the 3rd Battalion of the New Zealand Rifle Brigade.
In November 1917, the 3rd Battalion was in frontline trenches, near the town of Ypres, in Belgium. The area had been devastated by continuous fighting, and is described in the Official History of the New Zealand Rifle Brigade:
The forward part of the sector, situated on a low plateau, was swept continuously by machine-gun fire. The whole surface of the country from the front line westward was literally disintegrated by shell-fire, and every hollow converted into a loathsome bog. Everything, everywhere, except parts of our own works and a few German "pill-boxes", was shattered, and from any viewpoint one could get a striking example, never to be forgotten, of "the abomination of desolation."
In these terrible conditions, Claude demonstrated military leadership qualities. In February 1918, he was selected for officer training and sent to the Officer Cadet Unit at Trinity College, Cambridge.
After completing officer training in May 1918, he was promoted to the rank of 2nd Lieutenant. He was posted back to France, in July 1918, with the 2nd Battalion, Otago Regiment. Several months later, in September 1918, Claude became ill, or suffered an injury, as his military record notes that he was declared unfit for service and would need four months to recover.
He was sent back to New Zealand in December 1918. He was transferred to the "Reserve of Officers", with the rank of Lieutenant. Claude was discharged from the New Zealand Expeditionary Force in March 1920. He was awarded the British War Medal and the Victory Medal.
Claude rejoined the Audit Department, as an Audit Examiner Class VI, but did not stay long and moved to Australia in 1922.
Claude died in Australia on 5 October 1953.