Robert Harry Martin
From auditor to soldier.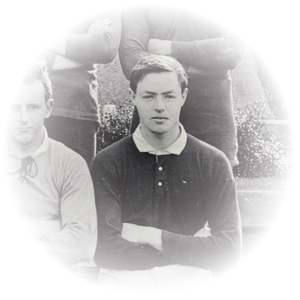 Robert Harry Martin was from Dunedin. He joined the Audit Department in April 1911. At the outbreak of WW1, he was a Cadet, Class VII in Wellington.
Robert joined the New Zealand Expeditionary Force, aged 20, in August 1914. He was sent to Samoa that month as part of the Samoan Advance Party. In Samoa, Robert had two hospital admissions for illness. He returned to New Zealand in April 1915.
In May 1916, he was promoted to the rank of Corporal and sent to Egypt, and then to Britain with the 2nd Battalion, New Zealand Rifle Brigade. He was based at Sling (north of London) and appointed as Acting Quartermaster. In August 1916, he was promoted to the rank of Sergeant. In June 1917, he was sent to France.
On 24 July 1917, Robert was wounded in France, in unusual circumstances. The medical report said that "He was wounded when on parade in rest camp." The wound was caused by an exploding shell. The injury was described as a large open wound and included a compound fracture to his shoulder.
He was initially treated by the Field Ambulance Service and then transferred to a hospital in France. He was later transferred to Hornchurch Convalescent Hospital in the United Kingdom. He was discharged from hospital in September 1917.
There was a medical review of Robert's health and he was declared unfit for further service. He returned to New Zealand in January 1918 and was discharged from the New Zealand Expeditionary Force on 20 March 1918.
Robert was awarded the 1914-15 Star, the British War Medal, and the Victory Medal. He resumed working for the Audit Department as an Assistant, Class VI, in the Audit Inspector's Invercargill office of the Department.
Robert later held positions of Audit Inspector, Gisborne, and Audit Inspector, Nelson. When Robert retired from the Audit Department in 1951, he had attained the position of Audit Inspector, Auckland.
Robert died in 1976 aged 81.