He waka eke noa
Te reo Māori is one of our official languages – we're doing our bit to safeguard this treasure.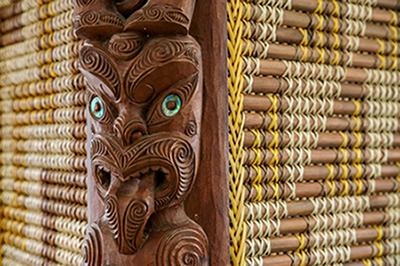 As a member of the Office's Reports & Communications Group, I've got a vested interest in language and its importance in engaging with our audiences. Our team is passionate about plain English, and we do our best to help our colleagues "translate" difficult or technical information into everyday language. Language is powerful – we rely on it to communicate with and understand each other, but it's also what makes us unique as individuals.
Our decision to incorporate te reo Māori into our work is an acknowledgement that it's one of New Zealand's official languages and that we have a responsibility to make our work accessible and relevant to all New Zealanders. Incorporating te reo Māori in our day-to-day work and interactions is just one way we can achieve that. We also acknowledge that we need to consult with and involve whānau, iwi, hapū, and other Māori organisations in our work when appropriate – like our Education for Māori work and our water work programme.
Our Office has a unique position in the public sector. We're the only organisation that has an interaction with every single public organisation each year, through our annual audits. That means we have a privileged role in influencing change and showing leadership, which is why we're publishing this blog post – to encourage other organisations to think about how they incorporate te reo Māori in their own work.
Earlier this year, we finalised a new strategy for our Office. To do this, we had many conversations about what we stand for and what's important to us both as individuals and as an organisation. One of the recurring themes was "people matter". This covers everyone, from our own staff to the people who rely on us to be Parliament's watchdog.
We're working on a Māori language and culture strategy for our Office to encourage the learning and use of tikanga Māori in our work. It's about keeping one of our national languages alive and ensuring that future generations benefit from the richness it adds to our culture. Some initiatives are in place already, such as te reo lessons for staff and weekly waiata group practices. There's been a positive response from staff wanting to not only improve their te reo but also their knowledge of tikanga Māori.
Henry Broughton, a Sector Manager in our Parliamentary Group, has been a driving force in facilitating the development of our Māori language and culture strategy. Henry's portfolio includes a number of Māori affairs organisations, and he appreciates how important and valued it is in simply pronouncing Māori words correctly and referring to organisations by their Māori names. He's found that his interactions with the Māori Affairs Select Committee have greatly benefited from the effort he has put into learning te reo Māori.
From a personal viewpoint, Henry says that, as someone who immigrated to New Zealand, taking the steps to learn te reo Māori was an important part of settling in Aotearoa and becoming a New Zealander. Henry initially joined the Office in 2009 on secondment from the UK National Audit Office, and one of his first pieces of work was looking at housing on Māori land. In the course of carrying out that work, he visited marae as well as small towns and villages in the far north – "I saw a whole world of New Zealand that I wouldn't have otherwise seen." He's seen the benefit for everybody just by learning even a small part of the language because it opens up a gateway to learning about a culture that is indigenous to this land. And while a fear of making mistakes might be an obstacle to learning a new language, Henry says that learning from those mistakes can help you build confidence and overcome that fear.
If you want to learn more about te reo Māori, there are plenty of resources available on the internet. Te Taura a Whiri I te Reo Māori's website is a great place to start for information on learning te reo Māori and services like translators. Also, Te Puni Kōkiri has a useful guide on Māori-English bilingual signage. Māori Language Week takes place from 10-16 September and this year's theme is "Kia kaha te reo Māori" – "Let's make the Māori language strong". We'll be embracing this in the Office and doing our part to support the use of te reo Māori. Even the smallest acts will make a difference to the future of this beautiful language – He iti te mokoroa nāna te kahikatea i kakati.