Ethical leadership. It's not a hat.
At the July meeting of the Leaders' Integrity Forum, we had the good fortune to hear from Professor Karin Lasthuizen and our own Steve Walker.
Julie Read of the Serious Fraud Office was our chair for the July Forum, and she introduced us to both Karin and Steve. Karin is the Brian Picot Chair in Ethical Leadership at Victoria University of Wellington. Steve is the Executive Director of Audit New Zealand and the Vice President of Chartered Accountants Australia and New Zealand.
Steve spoke first, drawing attention to the connection between the expectations of those working in the public sector and the expectations of those working in different professions. Steve's main focus was, of course, on the accounting profession and the role of its professional body in setting expectations about the behaviour of its members. His point was that many professions have a body that sets out a code of ethics for its members.
There are similarities between the setting of expectations by professional bodies and the setting of expectations by employers. Both are under pressure. New Zealand's public sector has faced some ethical challenges recently, with inappropriate spending and inappropriate behaviour. So too have the professions – the law profession is the most recent to be dealing with behaviour well beneath most people's expectations.
Steve got the audience to participate in a small poll that Audit New Zealand ran in its recent Information Updates, asking the folks at the Leaders' Integrity Forum to vote on which was more damaging for an organisation – poor performance or poor behaviour? Overwhelming, and in keeping with the responses at the Updates, the answer was poor behaviour.
If we want the public to have trust and confidence in New Zealand's public sector – and we certainly do, that's what my organisation's all about – then Steve argues that we can't be complacent. We have to work at it, and work harder.
In Steve's view, ethical leadership is not only fundamentally important to an organisation's success, it's also not a hat. You don't take it off, you're either an ethical leader – at all times, and for all the decisions you make – or you are not. Ethical leadership needs to be visible and invisible, choosing to do the right thing even when no one is watching.
Another challenge Steve gave the audience was to think about how ethical behaviour is guided within organisations. The expectations of staff and professionals need to be in a code of conduct and supported by appropriate values and policies. But they also need more: the expectations have to be reinforced by programmes of activities that not only expect ethical leadership but make it happen.
That was a nice segue into Karin's talk, because her gauntlet was about looking beyond the top tier of an organisation. Most of the time, New Zealand does a pretty fine job of having ethical leaders in our top roles. But in larger organisations, most staff don't get to see the top tier managers in action. So if you don't have a deliberate plan to support your middle managers in learning what ethical leadership looks like and helping them to demonstrate it, how can you be confident that your business really is being ethically led?
Karin talked about the different roles that a leader needs to play when trying to influence ethical behaviour in the workplace. It looked like this: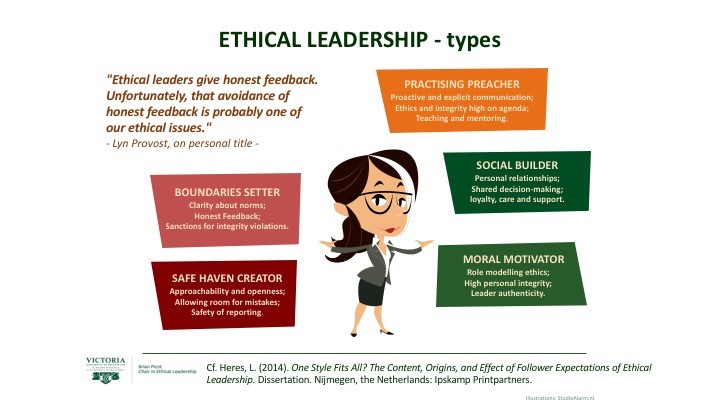 Most of us start with the "moral motivator" – because it's essentially about doing the right thing and role modelling that.  And in New Zealand, the "social builder" is already a big part of our culture (because we live in a village, so creating and maintaining strong relationships is something we need to do well).  But she posed a question about whether we are as good at the "safe haven creator" and "boundaries setter" roles.  These are more about explicitly managing ethics – which can include giving honest and direct feedback, creating a culture in which it is safe/okay to call things out, and telling our own stories about when we didn't get things right.
And "practising preacher" is about actively putting ethics and integrity on the agenda for discussion, education, and training within an organisation.
Karin's talk was impressive and thought-provoking. It was based on her research into ethics in New Zealand's public sector – it's well worth checking out.
Ethical leadership isn't limited to the workplace. Karin pointed out that New Zealand is a nation with some deep social issues, such as our high rates of suicide, mental health issues, imprisonment, poverty, and homelessness. But despite our increasing diversity, we're also a small nation. Are we sure we're doing enough to tackle those social issues? Would a stronger form of ethical leadership help us make some real progress?
In Karin's view, we need to be having conversations, as employees and as a nation, about our values. If we can identify the values that we share, we can clarify what matters to us and what we're committed to improving.
I left the Forum with plenty to mull over in terms of where my own organisation sits, how we can cover more of the types of ethical leadership, and what this might mean for our work more broadly…