Part 4: Delivering the Vision 2015 Programme and ensuring that benefits can be realised
Immigration New Zealand: Delivering transformational change.
4.1
In this Part, we outline Immigration New Zealand's good management practices, which included:
4.2
Immigration New Zealand's good management practices resulted in the successful delivery of the Vision 2015 Programme and should help to ensure that all of its intended benefits can be realised. As part of our assessment, we also looked at how Immigration New Zealand applied the lessons we identified in our 2012 report, Realising benefits from six public sector technology projects, during the change process. We encourage other public sector entities to take note of these good management practices when planning change and putting it in place.
A willingness to learn and change
4.3
Immigration New Zealand's willingness to use the lessons and recommendations from various reviews to better govern and manage the Vision 2015 Programme was an important factor in the programme's successful delivery.
4.4
Immigration New Zealand also learned from other government agencies. In 2013, lessons were shared about the problems that came with introducing the Ministry of Education's new payroll system. Immigration New Zealand used these lessons to find out how the Vision 2015 Programme was progressing. It discovered that progress was slow and there were deficiencies in how change was being managed. This highlights a culture in Immigration New Zealand of a willingness to identify issues and make changes as a result.
4.5
Immigration New Zealand used external consultants with the suitable skills and expertise to review the governance structures of the Immigration Global Management System project in 2013 and of the Vision 2015 Programme in 2014. This gave Immigration New Zealand independent quality assurance of whether governance structures of the project and Vision 2015 Programme were appropriate. The external consultants' conclusions were that governance structures needed to be significantly strengthened to ensure that the successful delivery of the project and Vision 2015 Programme's intended benefits.
4.6
After the external consultants' reviews, Immigration New Zealand reshaped and refocused the project and Vision 2015 Programme's governance structures (Figure 8).
4.7
Immigration New Zealand recruited independent board members for the Vision 2015 Programme Board. The board members had the right capabilities and skills to drive, challenge, and provide a clear view of progress. They also had the time to dedicate to this role. The revised governance structure had a significant effect on all crucial aspects of the Vision 2015 Programme.
Figure 8
The Vision 2015 Programme's governance structure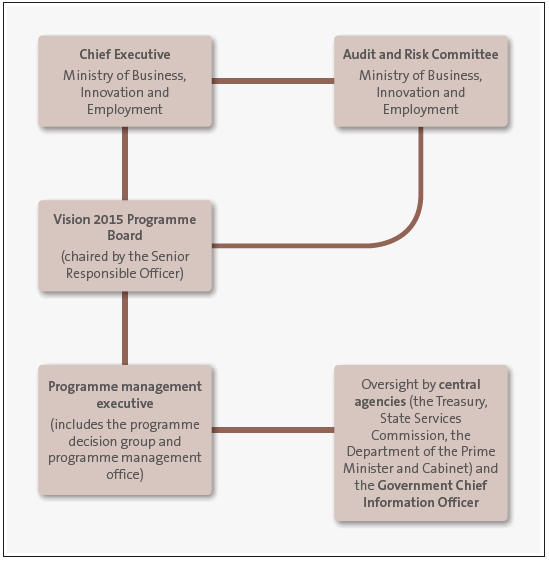 4.8
To ensure a clear separation of roles, managers accountable for the delivery of parts of the Vision 2015 Programme were removed from the Vision 2015 Programme Board. This made clear their requirement to report and be accountable to the board.
4.9
Governance was further strengthened with the Chief Executive of MBIE providing oversight of the Vision 2015 Programme. The Vision 2015 Programme's Senior Responsible Officer (SRO) was accountable to MBIE's leadership team, which sat above the Vision 2015 Programme's governance arrangements.
4.10
In 2013, Immigration New Zealand reviewed the progress made to the Immigration Global Management System project. It had been two years since Cabinet approved the business case. In that time, Immigration New Zealand had gained a more detailed understanding of the project's business requirements. There also had been wider changes (such as MBIE's formation) that affected the project's environment. This review allowed Immigration New Zealand to prioritise the project's deliverables and change its implementation approach.
4.11
Several elements of good practice outlined in our 2016 report Reflections from our audits: Governance and accountability were evident in Immigration New Zealand's revised approach to the Immigration Global Management System project. There were clear roles in the Vision 2015 Programme Board that separated governance and management. Immigration New Zealand also brought in board members with different skill sets.
4.12
Immigration New Zealand showed strong evidence of learning throughout the Vision 2015 Programme. These lessons were brought together in a report.10 Immigration New Zealand used this report to strengthen Vision 2020, its strategy to deliver change and realise benefits in the future. Immigration New Zealand has also used seminars and presentations to share its lessons with a wider audience.
Strong leadership and senior support
4.13
Strong leadership and support from key stakeholders is critical to achieving benefits.
4.14
During our fieldwork, we were told that leadership of the change management process and benefit management before 2012 was weak. This improved when the Deputy Chief Executive of Immigration New Zealand returned from secondment and prioritised the Vision 2015 Programme. He became the SRO and was directly accountable for the successful delivery of the Vision 2015 Programme. There was no ambiguity about the accountability of the SRO.
4.15
Staff we spoke to found communication during the change process to be clear, consistent, regular, and accessible. This was vital as the change process was rolled out in 16 countries, each with its own cultures and practices. Leadership was visible, with the SRO regularly appearing in videos to staff about the change process. This contributed to staff's commitment to the change process.
4.16
Communication about the decision to keep parts of the core visa processing system could have been stronger. Some staff we spoke to felt that the lack of clear communication about this led to some confusion about what was being changed and how.
4.17
The Vision 2015 Programme board provided an effective steer for the programme through clear decision-making. Decisions were based on clear and timely information provided to the Vision 2015 Programme Board on the progress of the various projects and overall programme. There was regular reporting of risks and issues to the board, allowing for corrective action and mitigation when required. Other stakeholders, such as the responsible minister, were kept informed of progress and, when required, provided effective challenge and decisions, including supporting additional funding to ensure that more benefits can be realised.
4.18
Immigration New Zealand deliberately took a top-down approach11 in leading the Vision 2015 Programme. People with the right capability and understanding of the business were employed. The increased number of visa applications, and the need to keep visa processing services operating in a global environment, needed a deliberate and directive approach to manage the change.
4.19
Immigration New Zealand's approach would not suit all change management programmes. In this case, the approach Immigration New Zealand took reduced the risk of failure. An important lesson is that organisations need to choose the management style that best suits their circumstances.
4.20
The effective leadership created a culture of staff engagement and buy-in. It also created a positive environment where staff trusted management to effectively lead, deliver, and support staff through the change process. However, there was less positivity in the offices that were under review for potential closure, in part because of the uncertainty and the time it took to complete the review process.
A flexible approach to programme management
4.21
Immigration New Zealand adapted its approach to change. The long lead-in period to starting the Vision 2015 Programme increased the pressure to deliver improvements in a more timely way. Failure to adapt and deliver the Vision 2015 Programme within a reasonable time frame and cost could have significantly affected New Zealand's economy, reputation, and security. This factor heavily influenced the approach taken by Immigration New Zealand after 2011.
4.22
Immigration New Zealand adopted an agile12 approach to change and delivery of benefits after 2011. This enabled the Vision 2015 Programme to adapt to changing needs and circumstances. Examples of an agile approach we have highlighted in this report include:
delaying the roll-out of the identity management system to allow for further testing; and
moving to fixed-price contractual arrangements.
4.23
A major step forward for the Vision 2015 Programme was adopting a minimum viable solution.13 This took a long time to establish and was possible only after Immigration New Zealand adopted an agile approach. This agile approach allowed Immigration New Zealand to have an affordable option for ICT enhancements that could be delivered in a flexible and timely way. After the minimum viable solution approach was adopted, it became clear that extra benefits worth more than $5 million a year could be achieved with a further investment of $28.4 million. The Government approved this investment and enhancements to the Vision 2015 programme are being made.
4.24
There was a change in how ICT was procured. Although good practice and public sector standards were followed, a view supported by external assurance, a new approach was adopted part-way through the Vision 2015 Programme. The contract with the main supplier was renegotiated to provide for a fixed-cost approach for key components of the Immigration Global Management System. Payment was based on performance and milestones achieved. This replaced a broader approach where costing was based on work required to deliver the whole project.
4.25
Fixed-price contracts gave Immigration New Zealand greater control of budgets and reduced the risk of overspending. This change of approach did carry some risks for supplier relationships, but these relationships were managed.
4.26
Another important factor in Immigration New Zealand's success in delivering the Vision 2015 Programme was its pragmatism during the four years from 2012.
4.27
As Immigration New Zealand needed to deliver 29 projects in a complex and global environment, it did not to try to ensure that each project was perfect before introducing it. Projects were released once they were good enough. This was to ensure that time frames and milestones were met, and that interdependence with other projects was maintained.
4.28
Student Online (the online service for international students to apply for visas) was rolled out first, because this was a relatively small change to the visa processing service. This enabled Immigration New Zealand to test this enhancement live without greatly affecting the integrity of the visa processing service.
4.29
Introducing change in stages helped Immigration New Zealand manage change in a way that:
maintained business-as-usual as much as possible;
kept the integrity of the visa application process; and
helped many frontline staff respond to, and absorb, new business processes and new ICT systems.
4.30
Immigration New Zealand adopted a manager-led change approach throughout all its offices. Managers were accountable for carrying out the changes in their offices. This made sense because Immigration New Zealand had a global structure where local cultures and practices were important. Managers were responsible for engaging staff, ensuring that staff got training and support, and communicating the relevant information. This approach was flexible enough to consider each individual office's circumstances.
4.31
Other examples where Immigration New Zealand showed a practical and flexible approach to carrying out change included:
using change readiness surveys to gauge the readiness of its offices to receive and implement change;
piloting some key changes before they were more widely rolled out (for example, the triage and verification tool was tested in three offices before it was rolled out); and
taking a pragmatic but flexible approach to staff training.
4.32
Training was consistent but it also considered the local circumstances and practices in certain countries. The training was broadly successful except in a few instances where it could have been more flexible or better targeted. For example, some staff felt the timing of some of the training could be better. Some training was delivered before the new systems were put in place, which meant staff could not put their training into practice. Some managers had to keep staff motivated and keep staff's training knowledge current when the number of online applications was low. Because change was delivered during a significant increase of visa applications, some staff found it difficult to balance both work and training.
4.33
The flexible approach Immigration New Zealand adopted shows how a change programme at risk of failure can be successfully turned around.
Working effectively with the right people
4.34
Before merging with MBIE, Immigration New Zealand was part of the Department of Labour, a medium-sized public entity. Business transformation needs a great deal of capability and capacity to be successful, because it can put a strain on the resources of organisations of this size. Immigration New Zealand's lack of appropriate capability and capacity before 2012 likely contributed to the slow progress of the change management process.
4.35
Taking a programme management approach to change supported a more integrated way of improving systems and process. Individual project teams did not work in isolation and there was better understanding by staff of how these projects related to each other. This highlighted that there was a strong collaborative culture not just in project teams but throughout the Vision 2015 Programme.
4.36
Immigration New Zealand successfully improved its programme capability by having internal and external expertise. External consultants were brought in to help Immigration New Zealand develop a new visa processing operating model. There was strong collaboration between Immigration New Zealand staff and the external consultants brought into the organisation. The programme director provided strong leadership and focus to pragmatically move the change process forward, ensuring that time frames were met. The programme director also sequenced and integrated different streams of work.
4.37
Immigration New Zealand set up a Change Implementation team, which was made up of a combination of external consultants and seconded Immigration New Zealand staff. This team was set up to support Visa Services to successfully carry out change. The Change Implementation team helped ensure that there was a smooth transition to the online visa processing system and allowed change to happen with minimal interruption to business-as-usual.
4.38
Once the Vision 2015 Programme concluded, there was a planned and effective handover of knowledge and experience from the Vision 2015 Programme to key staff in Immigration New Zealand. Staff also received continuing support to ensure that they did not lose the knowledge and experience gained through the Vision 2015 Programme.
4.39
Immigration New Zealand invested in good external quality assurance. This quality assurance was timed to coincide with important milestones in the life of the project. This information was critical to monitor the progress and implementation of the Vision 2015 Programme, and allowed Immigration New Zealand to take corrective action when needed.
---
10: Ministry of Business, Innovation and Employment (2016), Lessons Learned – Immigration New Zealand's Vision 2015 Programme.
11: A top-down approach means that all business decisions and directives come from senior management and are delivered to all staff in the organisation.
12: An agile approach follows an iterative process where changes are delivered incrementally, instead of all at once.
13: The minimum viable solution is a concept where the programme defines the threshold for product, process, technology, and organisational arrangements. The concept imposes a discipline on scoping and defining requirements so that changes can be practically rolled out.