Part 1: Introduction
Immigration New Zealand: Delivering transformational change.
1.1
In this Part, we discuss:
Why we did the audit
1.2
New Zealand competes internationally for visitors, students, and skilled labour. Immigration makes a significant contribution to the New Zealand economy:
International visitors contributed $14.5 billion to New Zealand's export industry in the year ended March 2016. This was 20.7% of all exports.
International education contributed $4 billion to the gross domestic product during 2015/16.
At the end of 2012, one in four workers in New Zealand were migrants.
1.3
Immigration New Zealand is part of the Ministry of Business, Innovation and Employment (MBIE) and is responsible for the regulatory and service delivery functions for immigration. One of Immigration New Zealand's main roles is to assess visa applications to ensure that people who come to New Zealand temporarily or permanently have met the appropriate immigration rules and requirements.
1.4
An effective immigration system makes it easy to identify and allow the entry of people who will make a positive contribution to New Zealand, and identify and exclude those who do not meet those requirements.
1.5
The number of approved visa applications has grown significantly in the last few years (Figure 1). In 2015/16, Immigration New Zealand assessed, and made decisions on, more than 700,000 visa applications involving more than 1 million people.2 The number of visa applications is forecast to continue to increase.
Figure 1
Number of approved visa applications, from 2005/06 to 2015/16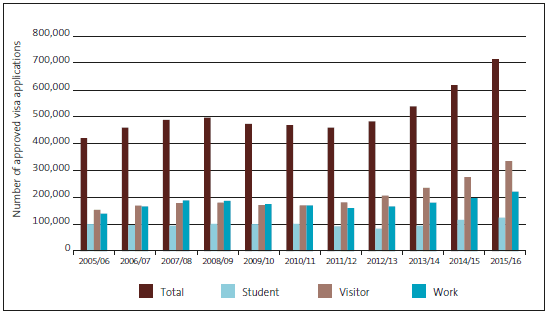 Note: Residence visa applications are not shown because the numbers are small compared with other visa application types.
Source: Immigration New Zealand.
1.6
Immigration New Zealand started offering an online visa application service from 2014, beginning with student visas. Until then, visa processing was paper-based and relied on manual processes and physical offices to receive and process visa applications. To remain financially sustainable and fit-for-purpose, Immigration New Zealand needed to change the way it delivered its services.
1.7
In 2012, Immigration New Zealand launched a business transformation programme called the Vision 2015 Programme. The Vision 2015 Programme's intentions included reorganising where and how visa services were delivered, upgrading the information and communications technology system (ICT system) used to process visas, and ensuring that staff were supported during the transition. The Vision 2015 Programme concluded in June 2016.
1.8
Although the Vision 2015 Programme never intended to deliver its full benefits within the time frame of our audit, we wanted to find out how well Immigration New Zealand managed this transformation programme to ensure that it is well placed to realise all of the intended benefits.
1.9
This report sets out what Immigration New Zealand did to ensure that the planned changes would uphold the integrity of the visa processing system. Because of the time it took to set up the Vision 2015 Programme, we also describe what happened in the years leading up to it.
Immigration New Zealand's visa processing service
1.10
Visa Services is the group in Immigration New Zealand responsible for providing immigration advice, services, and visa application processing for people wishing to come to, or remain in, New Zealand. Visa Services has more than 1000 staff working in 17 overseas offices (Figure 2). In 2016/17, Visa Services had an operating budget of $116.5 million.
Figure 2
Locations of Visa Services internationally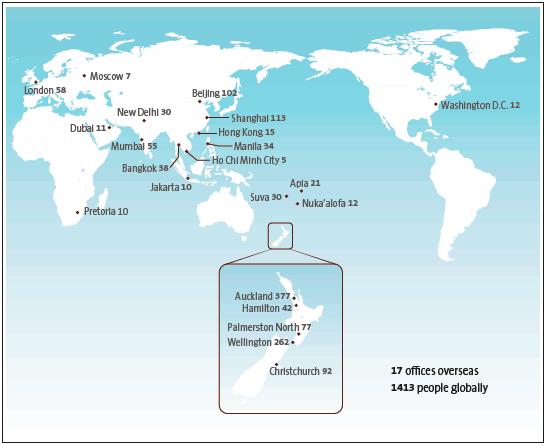 Source: Adapted from Immigration New Zealand, February 2017.
1.11
Until June 2012, the Ministry of Foreign Affairs and Trade's embassies and high commissions provided visa services on behalf of Immigration New Zealand. After June 2012, this progressively changed so that third-party providers (visa application centres) received and lodged visa applications submitted outside New Zealand. Using visa application centres allowed Immigration New Zealand to adopt similar practices to, and share resources with, its Five Country Conference partners.3 Staff in visa application centres do not make visa decisions.
1.12
There are four main visa types:
Visitor visas allow a person to stay in New Zealand for a period of time to visit or for short-term study.
Student visas allow a person to study full-time in New Zealand.
Work visas allow a person to work part-time or full-time in New Zealand.
Residence visas allow a person to study, work, and live permanently in New Zealand.
1.13
Immigration New Zealand processes visa applications in onshore and offshore offices. When Immigration New Zealand gets a visa application, the application is triaged by risk. A set of business rules decides the application's risk level. The application is then assigned to the appropriate queue. An Immigration Officer assesses the application against the immigration rules for the visa the person has applied for. The Immigration Officer also reviews all the supporting evidence provided. Where necessary, Immigration New Zealand asks for additional information from the applicant or third parties. The Immigration Officer then decides whether to grant the applicant the visa.
What we looked at
1.14
We carried out a performance audit to assess how well Immigration New Zealand managed the Vision 2015 Programme and how it ensured the integrity of the visa processing service so that it could meet present and future needs. Because of the time Immigration New Zealand took to set up the Vision 2015 Programme, we also looked at the change process that began in the mid-2000s.
1.15
Specifically, we looked at:
whether the business need and intended benefits were clearly identified;
how effectively the change process was managed and implemented; and
whether the expected benefits had been met or were on track to be met.
What we did not look at
1.16
We did not look at Immigration New Zealand's other roles, such as settlement services, refugee and protection services, and providing immigration advice. We did not look at the decision-making process for approving, declining, or extending visas.
1.17
We did not look at the use of contracted third-party providers or at the use and management of licensed immigration advisers. While of public interest, the use and management of licensed immigration advisors is not one of the regulatory functions of Immigration New Zealand.
How we did our audit
1.18
To carry out our audit, we reviewed:
the Cabinet-approved business cases to establish the intended benefits, planned time frames, and estimated costs;
documents from the Vision 2015 Programme such as implementation plans, minutes of meetings, programme management plans, assurance plans, change readiness surveys, and programme closure reports;
the findings of other reports on the Vision 2015 Programme, such as Gateway reviews, independent quality assurance reports, and Immigration New Zealand's report about the lessons it learned; and
financial information about the Vision 2015 Programme and data supplied by Immigration New Zealand on the number of visa applications and visa processing times.
1.19
We also interviewed Immigration New Zealand staff who were involved in managing and putting in place the Vision 2015 Programme and external reviewers whose reports we reviewed.
1.20
We met with staff in several local offices and managers of several offshore offices to understand how the Vision 2015 Programme affected frontline staff.
The structure of this report
1.21
In Part 2, we outline why Immigration New Zealand needed to change the way it delivered services. We also outline the context of the Vision 2015 Programme's development, its expected outcomes, and its intended benefits.
1.22
In Part 3, we outline what the Vision 2015 Programme has achieved and the benefits so far. We also discuss aspects Immigration New Zealand needs to focus on to ensure that the Vision 2015 Programme's full benefits can be realised.
1.23
In Part 4, we focus on Immigration New Zealand's good management practices and what it did to turn around a project that was at risk of failing.
---
2: Ministry of Business, Innovation and Employment (2016), Annual Report 2016, page 5.
3: The Five Country Conference is a forum where Australia, Canada, New Zealand, the United Kingdom, and the United States co-operate to improve border security and services to customers from each country.