Increasing the impact of audit
What do performance audits have in common with throwing stones?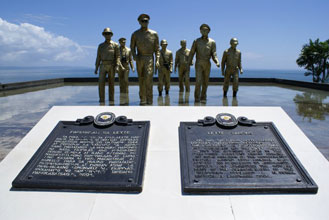 "I will return", said General Douglas MacArthur, and he did. In October 1944, the world watched as he waded ashore at Leyte to end his personal quest to liberate the Philippines.
MacArthur, Supreme Commander in the Southwest Pacific during WW2, is described as a controversial and enigmatic figure, but there is no doubting that he had impact. From 1942, MacArthur's headquarters were in Brisbane, located at the AMP building.
I've visited the small museum in MacArthur's old office, with his desk still in place. Located on what is now a busy shopping street, how many of the thousands of people who pass here daily realise what life and death decisions were made from a desk overlooking the street? From here, MacArthur successfully controlled a multi-national force of more than half a million American, Dutch, Australian, New Zealand, and British troops.
I was in Brisbane for the Australasian Council of Auditors-General (ACAG) managers' conference. A major theme of the ACAG conference was the impact of audit and how to get the most value from the investment made in it.
If our aim is to make ripples go further, we must either drop bigger stones or drop them in a different way.
Following up on previous audit reports to see what progress agencies have made with improvements is one way to increase impact – one of our earlier blogs touched on this, and we follow up on public entities' progress regularly. Like MacArthur, the auditor will return.
So, what is "impact"? I've borrowed the definition from Performance or compliance, courtesy of Jeremy Lonsdale of the UK's National Audit Office @NAOorguk:
.. the direct and indirect effect or influence that an audit office can have on the practices, performance and culture of the audited agency as a result of performance audit work.
Put simply – what changed as a result of our work.
One of the conference delegates compared performance audits to throwing pebbles in a pond, and that analogy resonated with me. An individual performance audit is one pebble dropped in a pond. The impact is naturally strongest where the pebble enters the water – that is, the agency being audited. How then do audit offices ensure that the ripple is felt not only in the agency but in other entities, where the same lessons could be learned without repeating the audit?
If our aim is to make the ripples spread further, we must either drop bigger stones or drop them in a different way so that more ripples are created. In a time of financial constraint, bigger stones – more or larger audits – might not be a viable solution. Therefore, we auditors have to consider changing what we do.
One way to make the ripples spread further and be felt is helping those who can bring about change get the information they need at the right time and in the right way. Reflecting periodically on what business we are in is always worthwhile. Is our business producing reports or helping to effect change?
Reports can be the catalyst for change, but we need to remember that audit reports have a life beyond the office door. Not always easy to do when the pressure is on to be timely and deadlines loom large! In fact, beyond the office door is where the "gold" is buried. We do our work a disservice when we don't remember this.
Any marketing professional will tell you that only one of the four "P"s of the marketing mix is the product. The other three are all about making the product successful in the market place. So three-quarters of the theoretical framework for marketing doesn't involve the product.
Do we, as auditors, put enough effort into thinking about our "products" in this way?