Six questions with Roy Glass, Director of Audit Improvement
In this Six Questions interview, Roy Glass talks about what's changed in the public sector since his first job as a bursar more than 40 years ago.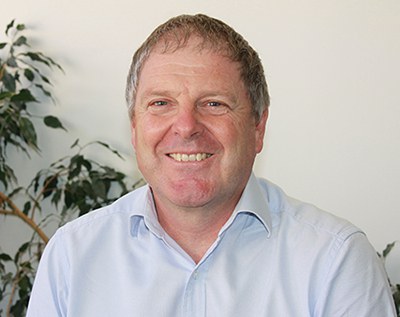 Moving from Whanganui to study in Wellington in 1979, Roy Glass has a long and storied history with the Office of the Auditor-General – he recently celebrated his 40th anniversary at the Office. As Director of Audit Improvement, Roy is the gatekeeper of the Auditor-General's Auditing Standards. These standards are the model and measure for all annual audits of New Zealand's 3500 public sector organisations. A champion for accountability and transparency, Roy says effective auditing that gets to the heart of a matter is what counts.
What was your first job in the public sector?
I was lucky enough to be a bursar, an arrangement that doesn't exist anymore, unfortunately. We were recruited into the public sector to work part time, and given some money – over and above what we were paid to go to university in those days – on the condition that I came back and worked for the Office once my studies were completed. From there, my first job was as an assistant auditor. I was out visiting entities, as part of an audit team, doing field work and so on.
How do you think the public sector has changed most since then?
When I first arrived in the public service, there was certainty. Government jobs were for life, and there were rules for everything. Now, we are all facing so many changes and challenges coming at us from all directions – sustainability, technology, inter-generational. We can't look to fixed and absolute rules any more to guide us; we have to look to principles. If we have a solid set of principles and values, this will stand us in good stead, and these can inform us on how to respond in any given situation.
How did you come into your particular field of expertise?
My father told me I should be an accountant – he said "they always drive flash cars". I started out studying in Whanganui and worked up there for three years. I studied part time at night school, and failed miserably, due to conflicting priorities of a sporting and social nature. So I came down here to Victoria University of Wellington to focus on it full time. My current role is to look forward to the future of auditing, to help decide where we need to go and develop solutions on how to get there.
What's something you have worked on during your time in the office that stands out?
In the latter part of the 1980s, there was tremendous change in the public sector, brought about by the Labour Government. The mantra going around was that "the market will determine the best allocation of resources". The government was selling its investment bank, the Development Finance Corporation. This was a "lender of last resort" – if people couldn't get money anywhere else, they went there.
The sale was completed in 1988; we audited the sale accounts. When the 1987 stock market crash happened, things got difficult for this bank. Essentially, once it was sold, the bank collapsed, and the lenders and new owners of the bank wanted their money back. The way they went about this was to challenge the quality of the audit. The net assets of the bank were worth about $180 million and the gross liabilities were into the billions – not an insignificant amount.
We spent a year defending the sale audit. In the end, I think our case was made by a single piece of analysis that I had spent a day on. It was definitely a learning experience – and we didn't get sued.
What's your favourite things about working for the Office?
The people and the problems we get to work on. I have great respect for the people who come to work here. And every day, I get a new problem to solve.
What do you think is the greatest challenge facing the public sector?
Public apathy. We don't have the participation in the democratic process there once was. People aren't as engaged with the running of the country. Maybe they've given up hope for change, or feel disenfranchised – like they can't do anything to affect its outcomes. It goes beyond New Zealand – all western democracies are struggling with this.
I once read, on a café wall in San Francisco, a phrase by the librarian and writer Audre Lorde: "Your silence will not protect you". It's more true now than it ever has been. We're facing some critical challenges – and we need involvement and representation from everyone in our decision-making processes.
---
Read our previous Six Questions interviews: