We will remember them.
I have a curious fondness for Robert Harry Martin. I've never met him and he died, aged 81, when I was six years old.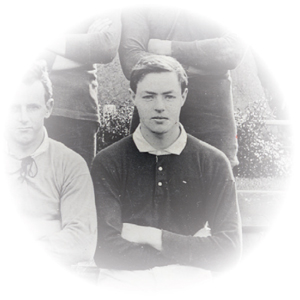 Last year, we published a book about the 32 men from our Office – then the Audit Department – who served in World War One. There was something about the photo of Robert that caught my eye – maybe his dark hair reminds me of my younger son. Maybe I just find him handsome. Whatever the reason, I found it strange to feel a connection and almost affection for someone I'd never met. I knew of Robert only through the photos we could find of him and the stories our volunteer researcher could uncover.
Robert was one of the 27 who made it back and lived to a ripe old age. From what we could find out about his life before and after the war, things turned out well. It didn't go so well for others who made it back.
John Dudley never made it back – he died of the 'flu' early in 1919, when he was still enlisted. Because he was still enlisted, he got one of the five asterisks on our memorial plaque and is considered to have died for his country.
Robert McMillan, on the other hand, became very sick at the end of the war and was given a medical discharge in April 1920 and died two months later. He didn't die "on active service" so no asterisk on the plaque for him. That still seems unfair to me.
Arthur Dalley, a prize-winner at school, ended up in jail and he died in his cell in 1937. Arnold Hore, another high achiever before the war, found it increasingly difficult to live on his salary during the Depression and the money was only resting in his account – honest! The courts saw it differently and he, too, ended up in jail.
The stories of all 32 men in our commemorative book are touching, in their own way. We've given copies of From auditor to soldier to the family members and relatives who got in touch with us and helped us fill out the stories of their men. From the feedback we've had, they've loved the book even more than we do.
(We printed just enough copies of the book for our offices, the families we could find, and our library. For everyone else, the men's stories are on our website. We hope you enjoy them.)