Stirring your coffee with a spoon made of ice – it happens all the time at Rolls-Royce
How is that connected to Rolls-Royce using data to understand their customers?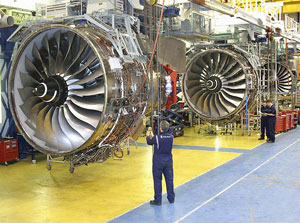 Rolls-Royce make jet engines, the things that put the airline industry into the, errr, air. The temperature inside a jet engine is high enough to melt the materials it's made from. So it's like stirring your favourite cup of java with an ice spoon. It's only very clever technology inside the engine that stops it melting when you're in the sky, half-way to Hamilton.
An interesting article describes how the jet engine business was once all about what went into the engine, the manufacturing. But technological differences between competitors converged. So the jet engine business became like Gillette selling razors. The engine (and razor) made little profit. That came from selling servicing and spare parts (or blades, in Gillette's case). Then the big airlines started getting their jets serviced at "non-franchised garages", which were cheaper, undercutting the manufacturers.
So Rolls-Royce created a new business model, underpinned by data. Every minute of every day, a steady stream of data is beamed to Rolls Royce's global operations room at its HQ at Derby, UK. And it has used this data to completely change the way it does business.
The global operations room looks like a currency trading floor, with banks of screens, clocks showing various time zones, and 24-hour news channels running in the background.
Where does this data come from? The engines – as they fly through the sky – a continuous data stream from over 3,500 engines around the world. Mike Terret, the company's Chief Operating Officer, says the only way they could get closer to the customer is by being on the plane itself.
IBM's CEO, Ginni Rometty, also believes that data will change organisations in the next few years – and a large part of that data will come from social media. She believes data is "the next natural resource".
Twitter is currently generating one billion tweets every three days. The back of my envelope tells me that's about nine billion words a day. In that many words, there has just got to be some nuggets of gold to help CEOs understand their customers or service users better.
As Andrew Grill, a leading digital commentator, says, "social media is the best piece of market research you never commissioned". So IBM's CEO thinks it's the key to understanding your service user and driving innovation in the future. How many other CEOs think the same way? Particularly those in the public sector?
I don't know the answer to that, but it's something we're hoping to get a handle on as part of the Office's work on social media.
Are top executives informed, engaged, and aligned with their organisation's social media strategy? The evolution of social business report states that only 52% of respondents agreed with that statement. They said that, "in organisations where executives do not use social media, there is limited understanding of its potential as a business tool". You might be thinking that sounds like common sense, but it's always surprising how uncommon "common sense" is.
But the risk is real enough – opportunities to use social media to listen to service users, mine the data, and innovate services could sail by – like a contrail in a clear blue sky.