Bill Robertson
Assistant Controller
Phone +64 4 917 1500, email Bill.Robertson@oag.parliament.nz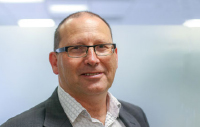 Bill joined the Office of the Auditor-General in November 2005 and became Assistant Controller in 2020. The Controller function is a critical part of the Controller and Auditor-General's role, and Bill is responsible for the strategic and operational leadership and management of the function.
Before assuming the Assistant Controller role, Bill was Director – Research & Development Group and a Sector Manager – Parliamentary Group.
Before joining us, Bill was the General Manager responsible for education, training, and admission at the New Zealand Institute of Chartered Accountants. Bill's work experience includes senior leadership; professional education policy, standards setting, and delivery; financial and non-financial reporting standards setting and research; and advising public sector entities and auditors on service performance reporting matters.
Page last updated: 31 March 2023