30. I am confident that incidents of fraud and corruption that occur at my organisation will be reported to the Police.
Public Sector Fraud Awareness Survey - Findings: Fraud response.
Observation: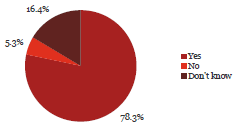 78% said that fraud in their organisation would be reported to the Police.
This view was shared by senior managers and staff alike and across all sectors.
Organisations that report matters to the Police had fewer reported incidences of fraud. Of those that answered "Yes" to the question, 21% reported incidences of fraud over the past two years. Of those that answered "No," 49% reported incidences of fraud.
What some respondents have said:
"We would only report a case of fraud or corruption to the Police if it involved theft or some other criminal activity. For example, misuse of a credit card or an irregularity with an expense claim for a minor amount, would not automatically be referred to the police."
"Our organisation takes fraud seriously and in situations where we have reasonable grounds to believe that fraud has occurred is obliged to report to the appropriate authority. This includes incidents of fraud that occurs with organisations that we fund."
PwC comment:
We would advise organisations to have access to suitably skilled people with a working knowledge of investigation (and interviewing techniques) and the relevant legislation investigate matters of fraud or corruption. This will help ensure that the Police receive information that has been correctly gathered to the required evidential standards.
"Reporting to police is considered on the basis of the nature and severity of the incident, not as a matter of course."
"We have taken on-board the Auditor General guidelines to report all instances of fraud to the police."
"My experience is that Police accord no priority to such reported cases."
"Incidents of fraud or corruption are reported to police if it is considered that reasonable defendable evidence is available for prosecution and that the police are likely to act on the evidence."
 
Yes
No
Don't know
Total Count
Chief Executive Officer/Managing Director/Principal
328
86%
20
5%
32
8%
380
Member of the senior executive/leadership team or equivalent
387
79%
30
6%
72
15%
489
Line manager (if not one of the above)
157
72%
10
5%
52
24%
219
Administration/Support Services
150
75%
9
5%
41
21%
200
Operational staff (e.g. Teacher, Analyst, Advisor, Technician, Officer, Engineer, Accountant)
93
68%
6
4%
37
27%
136
Total
1,115
78%
75
5%
234
16%
1,424
 
Yes
No
Don't know
Total Count
Central Government
 
 
 
 
 
 
 
Autonomous Crown Entities
49
91%
1
2%
4
7%
54
Central Government - Other
32
71%
0
0%
13
29%
45
Crown Agents or Companies
66
76%
5
6%
16
18%
87
Crown Research Institutes
30
81%
0
0%
7
19%
37
District Health Boards
58
83%
3
4%
9
13%
70
Government Departments
101
70%
8
6%
36
25%
145
Independent Crown Entities
29
78%
0
0%
8
22%
37
Māori Trust Boards
10
91%
0
0%
1
9%
11
Rural Education Activities Programmes
9
82%
0
0%
2
18%
11
State-Owned Enterprises
34
72%
8
17%
5
11%
47
Tertiary Education Institutions
67
74%
7
8%
17
19%
91
Sub-Total
485
76%
32
5%
118
19%
635
 
Yes
No
Don't know
Total Count
Local Government
 
 
 
 
 
 
 
Airports
12
63%
2
11%
5
26%
19
Council Controlled Organisations or Council Controlled Trading Organisations
59
79%
2
3%
14
19%
75
Energy Companies
21
75%
3
11%
4
14%
28
Fish and Game Councils
6
75%
1
13%
1
13%
8
Licensing and Community Trusts
7
78%
2
22%
0
0%
9
Local Authorities
137
81%
11
7%
21
12%
169
Local Government - Other
7
64%
1
9%
3
27%
11
Port Companies
1
50%
0
0%
1
50%
2
Sub-Total
250
78%
22
7%
49
15%
321
 
 
 
 
 
 
 
 
Schools
380
81%
21
4%
67
14%
468
Total
1,115
78%
75
5%
234
16%
1,424
page top