29. I am confident that my organisation will take all reasonable action to recover any money lost through fraud or corruption.
Public Sector Fraud Awareness Survey - Findings: Fraud response.
Observation: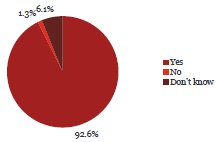 92.6% said they were confident that their organisation would take steps to recover lost monies.
This view was shared by senior managers and staff alike and across all sectors.
What some respondents have said:
"Fraud policy is back by zero tolerance - we will hand over to police and take action to recover losses."
"Comment re personal expenditure and disciplinary action: some action is always taken, appropriate to event. This may not be "disciplinary", but always includes recovery. Example: company credit card used in error or used in emergency and self reported does not result in disciplinary action; does result in immediate and full recovery."
PwC comment:
The public would expect public sector organisations to take all reasonable steps to recover any funds misappropriated. The fact that the organisation will take all practical steps to recover any money lost through fraud is another clear sign that the organisation takes these matters seriously.
"Credit card and staff expenses are monitored closely and any irregularities followed up with the employee concerned. Where appropriate, monies are recovered, however while the employee concerned may be advised of the inappropriateness of their behaviour, it may not always lead to formal disciplinary actions."
 
Yes
No
Don't know
Total Count
Chief Executive Officer/Managing Director/Principal
371
98%
3
1%
6
2%
380
Member of the senior executive/leadership team or equivalent
464
95%
6
1%
19
4%
489
Line manager (if not one of the above)
184
84%
3
1%
32
15%
219
Administration/Support Services
184
92%
4
2%
12
6%
200
Operational staff (e.g. Teacher, Analyst, Advisor, Technician, Officer, Engineer, Accountant)
116
85%
2
1%
18
13%
136
Total
1,319
93%
18
1%
87
6%
1,424
 
Yes
No
Don't know
Total Count
Central Government
 
 
 
 
 
 
 
Autonomous Crown Entities
53
98%
0
0%
1
2%
54
Central Government - Other
44
98%
0
0%
1
2%
45
Crown Agents or Companies
80
92%
2
2%
5
6%
87
Crown Research Institutes
36
97%
0
0%
1
3%
37
District Health Boards
63
90%
1
1%
6
9%
70
Government Departments
122
84%
2
1%
21
14%
145
Independent Crown Entities
35
95%
0
0%
2
5%
37
Māori Trust Boards
11
100%
0
0%
0
0%
11
Rural Education Activities Programmes
10
91%
0
0%
1
9%
11
State-Owned Enterprises
44
94%
0
0%
3
6%
47
Tertiary Education Institutions
82
90%
4
4%
5
5%
91
Sub-Total
580
91%
9
1%
46
7%
635
 
Yes
No
Don't know
Total Count
Local Government
 
 
 
 
 
 
 
Airports
16
84%
0
0%
3
16%
19
Council Controlled Organisations or Council Controlled Trading Organisations
71
95%
1
1%
3
4%
75
Energy Companies
27
96%
0
0%
1
4%
28
Fish and Game Councils
8
100%
0
0%
0
0%
8
Licensing and Community Trusts
8
89%
1
11%
0
0%
9
Local Authorities
152
90%
3
2%
14
8%
169
Local Government - Other
9
82%
0
0%
2
18%
11
Port Companies
1
50%
0
0%
1
50%
2
Sub-Total
292
91%
5
2%
24
7%
321
 
 
 
 
 
 
 
 
Schools
447
96%
4
1%
17
4%
468
Total
1,319
93%
18
1%
87
6%
1,424
page top