26. I am aware of fraud or corruption incidents in the last two years that have been reported but gone unpunished by my organisation.
Public Sector Fraud Awareness Survey - Findings: Fraud response.
Observation: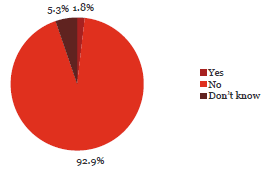 92.9% of respondents are not aware of any fraud that has gone unpunished in their organisation.
This view was shared by senior managers and staff alike and across all sectors.
What some respondents have said:
"I believe that fraud and corruption is viewed seriously but the extent of the disciplinary measures maybe some what lacking or inconsistent across the organization."
PwC comment:
We would expect all public sector organisations to have a "zero tolerance" approach to fraud. If fraud and corruption go unreported, confidence in management could be eroded and lead to a perception that fraud prevention is not taken seriously.
"I am aware of one issue of fraud that led to the early resignation of an individual over 5 years ago. I learnt about this through unofficial channels (i.e. the cafeteria), and have not heard of any other such incident since."
"Two years ago, a person was dismissed for fraud, and despite my written recommendation, the Principal did not get the police involved. We have a new Principal, who I believe would involve the Police.
 
Yes
No
Don't know
Total Count
Chief Executive Officer/Managing Director/Principal
7
2%
367
96%
7
2%
381
Member of the senior executive/leadership team or equivalent
11
2%
462
94%
16
3%
489
Line manager (if not one of the above)
5
2%
188
86%
26
12%
219
Administration/Support Services
1
1%
185
93%
14
7%
200
Operational staff (e.g. Teacher, Analyst, Advisor, Technician, Officer, Engineer, Accountant)
2
1%
122
90%
12
9%
136
Total
26
2%
1,324
93%
75
5%
1,425
 
Yes
No
Don't know
Total Count
Central Government
 
 
 
 
 
 
 
Autonomous Crown Entities
0
0%
50
93%
4
7%
54
Central Government - Other
0
0%
43
96%
2
4%
45
Crown Agents or Companies
2
2%
79
91%
6
7%
87
Crown Research Institutes
0
0%
34
92%
3
8%
37
District Health Boards
1
1%
65
93%
4
6%
70
Government Departments
1
1%
131
90%
13
9%
145
Independent Crown Entities
0
0%
36
97%
1
3%
37
Māori Trust Boards
0
0%
10
91%
1
9%
11
Rural Education Activities Programmes
0
0%
11
100%
0
0%
11
State-Owned Enterprises
3
6%
40
85%
4
9%
47
Tertiary Education Institutions
3
3%
83
91%
5
5%
91
Sub-Total
10
2%
582
92%
43
7%
635
 
Yes
No
Don't know
Total Count
Local Government
 
 
 
 
 
 
 
Airports
1
5%
16
84%
2
11%
19
Council Controlled Organisations or Council Controlled Trading Organisations
1
1%
73
97%
1
1%
75
Energy Companies
1
4%
26
93%
1
4%
28
Fish and Game Councils
0
0%
8
100%
0
0%
8
Licensing and Community Trusts
0
0%
8
89%
1
11%
9
Local Authorities
5
3%
155
92%
9
5%
169
Local Government - Other
0
0%
11
100%
0
0%
11
Port Companies
0
0%
2
100%
0
0%
2
Sub-Total
8
2%
299
93%
14
4%
321
 
 
 
 
 
 
 
 
Schools
8
2%
443
94%
18
4%
469
Total
26
2%
1,324
93%
75
5%
1,425
page top