Section 5: My environment
Public Sector Fraud Awareness Survey - Findings: My environment.
Question
In the current economic climate, I believe that my organisation faces:

A greater risk of fraud
A lower risk of fraud
No change to the risk of fraud
Don't know
Environmental factors – concern for job security and pressure to do more with less
Why do people commit fraud? Fraud practitioners often point to three common factors when fraud occurs (the "fraud triangle"). First, perpetrators of fraud need an incentive or pressure to engage in misconduct. Second, there must be an opportunity to commit fraud, and third, perpetrators are able to rationalise or justify their actions.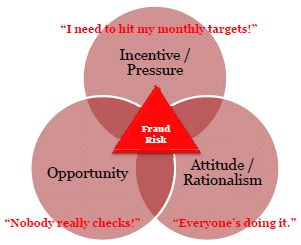 The PwC 2009 Global Economic Crime Survey found that:
71% of respondents attributed fraud occurrences to increased incentives or pressure on individuals, particularly during the global economic crisis.
15% claimed "more opportunities" as the most likely reason for fraud occurring.
12% believed that people's ability to rationalise was the main factor contributing to fraud occurring.
The PwC survey identified for the public sector that the two most commonly perceived drivers of fraud were people's concerns about their job security; and people feeling under increasing pressure to achieve more difficult performance targets, and perceivably with fewer resources. We therefore decided to use questions related to these two issues for this survey.
However, notwithstanding the current Government drive for improved efficiencies across public sector operations (and potential job losses), we are pleased to note that 94.4% of respondents remained confident of their job security, even though there was added pressure to be more efficient with fewer resources.
Respondents from District Health Boards reported the lowest level of job security, with 20% either not feeling secure or unsure about their job security.
Against that backdrop, 69.2% of respondents did not believe the current economic climate increased their level of fraud risk. This concerns us. In our experience, in challenging economic times the risk of fraud can be greater as people cope with the added pressure to meet daily needs.
page top