41. I feel secure in my job.
Public Sector Fraud Awareness Survey - Findings: My environment.
Observation: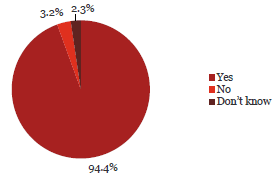 94.4% of respondents feel secure in their job and confidence of job security was generally high across all positions.
Those who felt less secure were working for District Health Boards (80%).
Organisations where people answered "Yes" to this question reported fewer incidences of fraud (22% compared with 30%).
What some respondents have said:
"We have a very strong organisational culture which means we employ superb people. That coupled with good systems means the current economic climate is irrelevant to our fraud risk."
"Current review of the role of Regulatory bodies and suggestion of merging into 1, has meant staff are feeling insecure about their jobs, this plus the current economic climate increases the risk of fraud."
"We have a small staff who are treated with respect. There is no reason for them to harbour resentment or feel they are poorly paid. However, it is most unhelpful when politicians belittle public servants and based on little knowledge, make derogatory statements. They have no idea of the actual work done."
PwC comment:
The 2009 PwC survey identified that, for the public sector, one of two most commonly perceived drivers of fraud was people's concern about their job security. We are pleased to note that this survey's respondents generally do not support the view that people held concerns for their job security.
"If people's circumstances are tougher and their engagement in the organisation reduced, then they may make bad choices. A lot of government agencies are facing significant restructuring. The less loyalty an organisation shows to its people, the less the organisation will receive in return. This may impact on how people see actions like stealing from their employer if they feel they are "owed" something."
 
Yes
No
Don't know
Total Count
Chief Executive Officer/Managing Director/Principal
369
97%
7
2%
4
1%
380
Member of the senior executive/leadership team or equivalent
457
94%
16
3%
14
3%
487
Line manager (if not one of the above)
201
92%
12
5%
6
3%
219
Administration/Support Services
190
95%
6
3%
3
2%
199
Operational staff (e.g. Teacher, Analyst, Advisor, Technician, Officer, Engineer, Accountant)
124
92%
5
4%
6
4%
135
Total
1,341
94%
46
3%
33
2%
1,420
 
Yes
No
Don't know
Total
Central Government 
 
 
 
 
 
 
 
Autonomous Crown Entities
52
96%
1
2%
1
2%
54
Central Government - Other
42
93%
2
4%
1
2%
45
Crown Agents or Companies 
80
92%
5
6%
2
2%
87
Crown Research Institutes
34
92%
2
5%
1
3%
37
District Health Boards
56
80%
6
9%
8
11%
70
Government Departments
131
90%
10
7%
4
3%
145
Independent Crown Entities
33
92%
1
3%
2
6%
36
Māori Trust Boards
10
91%
0
0%
1
9%
11
Rural Education Activities Programmes
11
100%
0
0%
0
0%
11
State-Owned Enterprises
45
96%
1
2%
1
2%
47
Tertiary Education Institutions
83
92%
6
7%
1
1%
90
Sub-Total
577
91%
34
5%
22
3%
633
 
Yes
No
Don't know
Total
Local Government
 
 
 
 
 
 
 
Airports
15
83%
1
6%
2
11%
18
Council Controlled Organisations or Council
Controlled Trading Organisations
68
91%
4
5%
3
4%
75
Energy Companies
28
100%
0
0%
0
0%
28
Fish and Game Councils
7
88%
0
0%
1
13%
8
Licensing and Community Trusts
9
100%
0
0%
0
0%
9
Local Authorities
160
95%
6
4%
2
1%
168
Local Government - Other
10
91%
0
0%
1
9%
11
Port Companies
2
100%
0
0%
0
0%
2
Sub-Total
299
94%
11
3%
9
3%
319
 
 
 
 
 
 
 
 
Schools
465
99%
1
0%
2
0%
468
Total
1,341
94%
46
3%
33
2%
1,420
page top