31. Internal controls are reviewed as part of every fraud investigation.
Public Sector Fraud Awareness Survey - Findings: Fraud response.
Observation: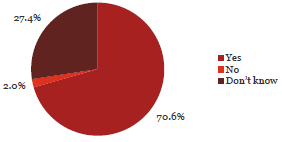 70.6% of respondents said that their organisation reviews its internal controls as part of every fraud investigation.
Chief executives (82%) and senior managers (77%) were more confident of this occurring than line managers (55%) and operational staff (47%).
Airports (47%), Port Companies (50%), Government Departments (60%), Crown Research Institutes (62%), State-Owned Organisations (62%), "Local Government-Other" organisations (64%) and District Health Boards (67%) were among those less likely to review internal controls as part of every fraud investigation.
What some respondents have said:
"I do know of one case of Fraud (falling outside of the two years) that was reported to the Police and it did result in a review of credit card review of spending."
"As an organisation with employees in countries other than NZ, incidents may not be reported to the police where it is unlikely that the Police will be in a position to investigate e.g. some Asian countries. Since disciplinary action is usually dismissal, specific incidents are not communicated to all staff. However, information uncovered during an investigation is used to improve systems and processes."
PwC comment:
The opportunity for fraud to be committed has usually been as a result of inadequate controls (physical) and/or non-compliance by staff with policy and procedures (behavioural). Organisations should review their control environment regularly, and particularly after fraud has occurred.
"We have only had one reported incident in the last three years. It was thoroughly investigated. No issue of fraud was found. However it did result in process improvements being put in place."
"We have many checks in our system, but this survey has highlighted the need for us to regularly review our processes."
 
Yes
No
Don't know
Total Count
Chief Executive Officer/Managing Director/Principal
310
82%
14
4%
56
15%
380
Member of the senior executive/leadership team or equivalent
375
77%
6
1%
108
22%
489
Line manager (if not one of the above)
120
55%
6
3%
93
42%
219
Administration/Support Services
136
68%
1
1%
63
32%
200
Operational staff (e.g. Teacher, Analyst, Advisor, Technician, Officer, Engineer, Accountant)
64
47%
2
1%
70
51%
136
Total
1,005
71%
29
2%
390
27%
1,424
 
Yes
No
Don't know
Total Count
Central Government
 
 
 
 
 
 
 
Autonomous Crown Entities
44
81%
1
2%
9
17%
54
Central Government - Other
36
80%
0
0%
9
20%
45
Crown Agents or Companies
64
74%
2
2%
21
24%
87
Crown Research Institutes
23
62%
0
0%
14
38%
37
District Health Boards
47
67%
0
0%
23
33%
70
Government Departments
87
60%
3
2%
55
38%
145
Independent Crown Entities
21
57%
0
0%
16
43%
37
Māori Trust Boards
9
82%
1
9%
1
9%
11
Rural Education Activities Programmes
8
73%
0
0%
3
27%
11
State-Owned Enterprises
29
62%
1
2%
17
36%
47
Tertiary Education Institutions
70
77%
0
0%
21
23%
91
Sub-Total
438
69%
8
1%
189
30%
635
 
Yes
No
Don't know
Total Count
Local Government
 
 
 
 
 
 
 
Airports
9
47%
0
0%
10
53%
19
Council Controlled Organisations or Council Controlled Trading Organisations
57
76%
1
1%
17
23%
75
Energy Companies
21
75%
1
4%
6
21%
28
Fish and Game Councils
7
88%
0
0%
1
13%
8
Licensing and Community Trusts
6
67%
0
0%
3
33%
9
Local Authorities
120
71%
7
4%
42
25%
169
Local Government - Other
7
64%
1
9%
3
27%
11
Port Companies
1
50%
0
0%
1
50%
2
Sub-Total
228
71%
10
3%
83
26%
321
 
 
 
 
 
 
 
 
Schools
339
72%
11
2%
118
25%
468
Total
1,005
71%
29
2%
390
27%
1,424
page top