15. My organisation carries out due diligence on new suppliers, including credit checks and checks for conflicts of interest.
Public Sector Fraud Awareness Survey - Findings: Fraud prevention.
Observation:
47.5% of respondents say that they carry out due diligence checks on new suppliers.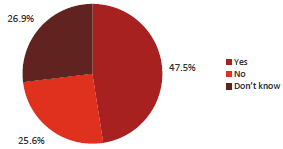 What some respondents have said:
"Some checks are done regarding conflicts of interest but only of the elected members and senior management. Declarations are completed every year and a search is done of the Companies Register for elected members who have shareholdings or are directors."
PwC comment:
Knowing who your suppliers are and where your money is going is as important as knowing your staff. We have seen significant fraud occurring through the use of "false" suppliers or through suppliers that have a close relationship with an organisation's employees. A sound preventative measure is to undertake appropriate due diligence checks on any new suppliers.
"All suppliers are checked for conflict of interest in my directorate. Some may have credit checks, but this is not routine."
"Fraud awareness training is underway with key managers, and a rationalisation of suppliers is underway which will assist any/the reduction in opportunities to defraud or collude with suppliers and specific probity checks are carried on a regular cycle and on key executives or people in certain positions if any resignations of such positions."
"We are a bit "hit and miss" - sometimes we check new creditor details - sometimes not."
 
Yes
No
Don't know
Total Count
Chief Executive Officer/Managing Director/Principal
213
56%
115
30%
55
14%
383
Member of the senior executive/leadership team or equivalent
257
52%
119
24%
115
23%
491
Line manager (if not one of the above)
88
40%
46
21%
86
39%
220
Administration/Support Services
81
41%
60
30%
59
30%
200
Operational staff (e.g. Teacher, Analyst, Advisor, Technician, Officer, Engineer, Accountant)
41
30%
26
19%
70
51%
137
Total
680
48%
366
26%
385
27%
1,431
 
Yes
No
Don't know
Total
Central Government
 
 
 
 
 
 
 
Autonomous Crown Entities
21
39%
19
35%
14
26%
54
Central Government - Other
20
44%
17
38%
8
18%
45
Crown Agents or Companies 
47
54%
14
16%
26
30%
87
Crown Research Institutes
29
76%
3
8%
6
16%
38
District Health Boards
41
59%
8
11%
21
30%
70
Government Departments
68
46%
18
12%
61
41%
147
Independent Crown Entities
12
32%
8
22%
17
46%
37
Māori Trust Boards
8
73%
3
27%
0
0%
11
Rural Education Activities Programmes
3
27%
4
36%
4
36%
11
State-Owned Enterprises
28
60%
6
13%
13
28%
47
Tertiary Education Institutions
51
56%
14
15%
26
29%
91
Sub-Total
328
51%
114
18%
196
31%
638
 
Yes
No
Don't know
Total
Local Government
 
 
 
 
 
 
 
Airports
9
47%
5
26%
5
26%
19
Council Controlled Organisations or Council Controlled Trading Organisations
43
57%
15
20%
17
23%
75
Energy Companies
16
57%
6
21%
6
21%
28
Fish and Game Councils
4
50%
3
38%
1
13%
8
Licensing and Community Trusts
5
56%
3
33%
1
11%
9
Local Authorities
68
40%
39
23%
62
37%
169
Local Government - Other 
4
36%
7
64%
0
0%
11
Port Companies
0
0%
2
67%
1
33%
3
Sub-Total
149
46%
80
25%
93
29%
322
 
 
 
 
 
 
 
 
Schools
203
43%
172
37%
96
20%
471
Total
680
48%
366
26%
385
27%
1,431
page top