12. New employees at my organisation undergo pre-employment screening that includes criminal history checks.
Public Sector Fraud Awareness Survey - Findings: Fraud prevention.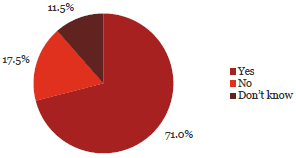 Observation:
71% of respondents said that their organisation has pre-employment screening.
78% of Chief Executives said that their organisations had pre-employment screening processes that included criminal history checks.
What some respondents have said:
PwC comment:
A less than robust pre-employment screening process can lead to organisations employing someone who may pose a risk to its reputation or financial wellbeing. We recommend credit history and bankruptcy checks for all appointments where a person will have a financial delegation or an authority to spend. Criminal history checks should be considered for all new appointments.
"While we do not undertake formal criminal record checks for every prospective employee we do make provision for doing this if deemed necessary."
"My answer was yes but only some new employees have their criminal history checked."
"Fraud awareness training is underway with key managers, and a rationalisation of suppliers is underway which will assist any the reduction in opportunities to defraud or collude with suppliers and specific probity checks are carried on a regular cycle and on key executives or people in certain positions if any resignations of such positions."
"Depends on the position."
 
Yes
No
Don't know
Total Count
Chief Executive Officer/Managing Director/Principal
297
78%
70
18%
16
4%
383
Member of the senior executive/leadership team or equivalent
341
69%
104
21%
46
9%
491
Line manager (if not one of the above)
138
63%
41
19%
41
19%
220
Administration/Support Services
160
80%
17
9%
23
12%
200
Operational staff (e.g. Teacher, Analyst, Advisor, Technician, Officer, Engineer, Accountant)
80
58%
19
14%
38
28%
137
Total
1,016
71%
251
18%
164
11%
1,431
 
Yes
No
Don't know
Total
Central Government
 
 
 
 
 
 
 
Autonomous Crown Entities
29
54%
18
33%
7
13%
54
Central Government - Other
19
42%
19
42%
7
16%
45
Crown Agents or Companies 
51
59%
24
28%
12
14%
87
Crown Research Institutes
20
53%
11
29%
7
18%
38
District Health Boards
53
76%
10
14%
7
10%
70
Government Departments
109
74%
21
14%
17
12%
147
Independent Crown Entities
17
46%
12
32%
8
22%
37
Māori Trust Boards
9
82%
2
18%
0
0%
11
Rural Education Activities Programmes
11
100%
0
0%
0
0%
11
State-Owned Enterprises
31
66%
9
19%
7
15%
47
Tertiary Education Institutions
45
49%
22
24%
24
26%
91
Sub-Total
394
62%
148
23%
96
15%
638
 
Yes
No
Don't know
Total
Local Government
 
 
 
 
 
 
 
Airports
12
63%
1
5%
6
32%
19
Council Controlled Organisations or Council Controlled Trading Organisations
33
44%
27
36%
15
20%
75
Energy Companies
14
50%
9
32%
5
18%
28
Fish and Game Councils
7
88%
1
13%
0
0%
8
Licensing and Community Trusts
4
44%
3
33%
2
22%
9
Local Authorities
83
49%
51
30%
35
21%
169
Local Government - Other 
5
45%
5
45%
1
9%
11
Port Companies
2
67%
1
33%
0
0%
3
Sub-Total
160
50%
98
30%
64
20%
322
 
 
 
 
 
 
 
 
Schools
462
98%
5
1%
4
1%
471
Total
1,016
71%
251
18%
164
11%
1,431
page top