13. I have had fraud awareness training at my current organisation.
Public Sector Fraud Awareness Survey - Findings: Fraud prevention.
Observation: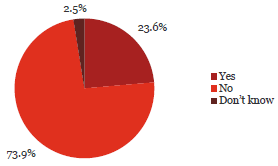 73.9% of respondents said that they had not received fraud awareness training at their current organisation.
This lack of training was reflected across all roles and levels of organisations.
Of those who had received training, 16.5% had received training in the previous six months and 33.2% in the previous 12 months. A quarter of respondents indicated that they last received training over two years ago.
What some respondents have said:
"We have a very small and senior staff with an extremely low turnover record - hence the limited training needed. Although we do not have a formal Staff Code of Conduct we do have a disciplinary policy and there is reference in our fraud policy which has relevance."
"We are a bit "hit and miss" - sometimes we provide fraud awareness training, but it isn't consistent."
PwC comment:
Employees are an organisation's greatest weapon in the prevention of fraud and corruption. A significant amount of fraud is not detected in the early stages because of the inability of the organisation's staff to recognise early warning signs or because they were unsure how to report their suspicions.
"It would appear from these questions that communication of fraud policy is lacking and training is required in respect of what it covers and how to apply and overcome fraud."
"Where does a Principal get training to identify fraud?"
"I don't think fraud is a significant issue, but more focused training on probity and conflict-of-interest management is required to avoid probity issues caused by naivety."
Would benefit from stronger leadership expectation setting that it is unacceptable and regular communication about that."
 
Yes
No
Don't know
Total Count
Chief Executive Officer/Managing Director/Principal
87
23%
291
76%
5
1%
383
Member of the senior executive/leadership team or equivalent
132
27%
350
71%
9
2%
491
Line manager (if not one of the above)
53
24%
164
75%
3
1%
220
Administration/Support Services
48
24%
141
71%
11
6%
200
Operational staff (e.g. Teacher, Analyst, Advisor, Technician, Officer, Engineer, Accountant)
18
13%
111
81%
8
6%
137
Total
338
24%
1,057
74%
36
3%
1,431
 
Yes
No
Don't know
Total
Central Government
 
 
 
 
 
 
 
Autonomous Crown Entities
16
30%
38
70%
0
0%
54
Central Government - Other
10
22%
33
73%
2
4%
45
Crown Agents or Companies 
26
30%
55
63%
6
7%
87
Crown Research Institutes
7
18%
30
79%
1
3%
38
District Health Boards
20
29%
50
71%
0
0%
70
Government Departments
34
23%
108
73%
5
3%
147
Independent Crown Entities
4
11%
31
84%
2
5%
37
Māori Trust Boards
2
18%
9
82%
0
0%
11
Rural Education Activities Programmes
1
9%
10
91%
0
0%
11
State-Owned Enterprises
14
30%
33
70%
0
0%
47
Tertiary Education Institutions
35
38%
55
60%
1
1%
91
Sub-Total
169
26%
452
71%
17
3%
638
 
Yes
No
Don't know
Total
Local Government
 
 
 
 
 
 
 
Airports
7
37%
11
58%
1
5%
19
Council Controlled Organisations or Council Controlled Trading Organisations
17
23%
56
75%
2
3%
75
Energy Companies
12
43%
15
54%
1
4%
28
Fish and Game Councils
3
38%
5
63%
0
0%
8
Licensing and Community Trusts
1
11%
8
89%
0
0%
9
Local Authorities
38
22%
129
76%
2
1%
169
Local Government - Other 
1
9%
10
91%
0
0%
11
Port Companies
1
33%
2
67%
0
0%
3
Sub-Total
80
25%
236
73%
6
2%
322
 
 
 
 
 
 
 
 
Schools
89
19%
369
78%
13
3%
471
Total
338
24%
1,057
74%
36
3%
1,431
page top