14. The fraud awareness training that I received at my current organisation was …
Public Sector Fraud Awareness Survey - Findings: Fraud prevention.
Observation:
More than half of respondents indicated that it had been more than 12 months since they had received fraud awareness training.
Organisations with fraud training reported higher occurrences of fraud in the past 2 years than those that did not have such training (32% compared with 20%). This could be attributed to staff knowing how to recognise fraud and what to do when they suspect or observe fraud occurring.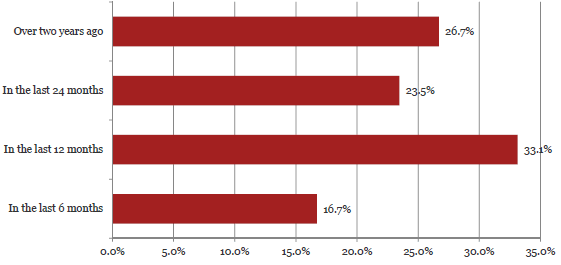 What some respondents have said:
"Fraud is not an expected occurrence therefore it is not given great consideration."
"Awareness of fraud and expected code of conduct articulated, however there are improvements that could be made but it is a principle of diminishing returns for the extra effort."
PwC comment:
In order to provide an organisation with the best opportunity to mitigate its fraud risks, it is important that its employees receive regular fraud awareness training. Ideally, this should be annually.
"The governing body and executive set the appropriate 'tone from the top' but the issue is maintaining the awareness of staff within the organisation particularly when there is changes and for staff that have been around for a number of years."
page top