10. My organisation reviews its fraud controls on a regular basis (annually or biannually).
Public Sector Fraud Awareness Survey - Findings: Fraud prevention.
Observation: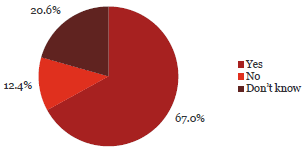 67% say that their organisation reviews their anti-fraud controls regularly.
80% of Chief Executives had confidence that their organisation's fraud controls were reviewed regularly. Only 49% of operational staff and 52% of line managers responded in the same way.
What some respondents have said:
"Board has an active Audit Committee, annually reviews fraud policy and also sensitive expenditure policy, and is considering a Fraud contingency response programme so as to have a system in place to respond to a fraud event."
"It is managed through our Board Finance committee which reviews our Fraud policy every 2 years. I discuss with auditors each year when they visit, as does my Executive Officer. The policy is included in our policy manual which has a copy in the staffroom, but staff do not read and we do not take up time at staff meetings going over such matters - at a managerial level and at Board level we discuss and oversee what happens and be careful to prevent any fraud or corruption."
PwC comment:
Work environments can often be in a constant state of change and fraud controls need to stay aligned to organisational changes and evolving fraud trends. Any inadequacy in controls provides an opportunity for fraud to be committed.
"We have many checks in our system, but this survey has highlighted the need for us to regularly review our processes."
"As a relatively small organisation, we do not have extensive processes for fraud prevention and awareness raising. However, we have simple checks such as clear authorisation procedures and management awareness of signs of potential fraud. These are considered by external audit to be appropriate for the size of our organisation."
 
Yes
No
Don't know
Total Count
Chief Executive Officer/Managing Director/Principal
306
80%
58
15%
19
5%
383
Member of the senior executive/leadership team or equivalent
337
68%
72
15%
83
17%
492
Line manager (if not one of the above)
115
52%
23
10%
82
37%
220
Administration/Support Services
135
67%
14
7%
52
26%
201
Operational staff (e.g. Teacher, Analyst, Advisor, Technician, Officer, Engineer, Accountant)
67
49%
11
8%
59
43%
137
Total
960
67%
178
12%
295
21%
1,433
 
Yes
No
Don't know
Total
Central Government
 
 
 
 
 
 
 
Autonomous Crown Entities
43
80%
4
7%
7
13%
54
Central Government - Other
36
78%
2
4%
8
17%
46
Crown Agents or Companies 
68
78%
5
6%
14
16%
87
Crown Research Institutes
30
79%
3
8%
5
13%
38
District Health Boards
45
64%
6
9%
19
27%
70
Government Departments
78
53%
16
11%
53
36%
147
Independent Crown Entities
25
68%
1
3%
11
30%
37
Māori Trust Boards
7
64%
3
27%
1
9%
11
Rural Education Activities Programmes
8
73%
1
9%
2
18%
11
State-Owned Enterprises
37
79%
0
0%
10
21%
47
Tertiary Education Institutions
72
79%
2
2%
17
19%
91
Sub-Total
449
70%
43
7%
147
23%
639
 
Yes
No
Don't know
Total
Local Government
 
 
 
 
 
 
 
Airports
7
37%
3
16%
9
47%
19
Council Controlled Organisations or Council Controlled Trading Organisations
54
72%
11
15%
10
13%
75
Energy Companies
16
57%
8
29%
4
14%
28
Fish and Game Councils
6
75%
2
25%
0
0%
8
Licensing and Community Trusts
6
67%
2
22%
1
11%
9
Local Authorities
85
50%
37
22%
47
28%
169
Local Government - Other 
8
73%
2
18%
1
9%
11
Port Companies
0
0%
2
67%
1
33%
3
Sub-Total
182
57%
67
21%
73
23%
322
 
 
 
 
 
 
 
 
Schools
329
70%
68
14%
75
16%
472
Total
960
67%
178
12%
295
21%
1,433
page top