9. I am confident that other employees understand their responsibilities for preventing and detecting the risks of fraud and corruption.
Public Sector Fraud Awareness Survey - Findings: Fraud prevention.
Observation: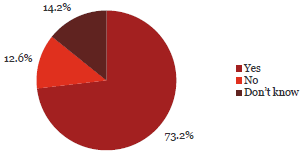 73.2% of respondents were confident that other employees understood their responsibilities.
Line managers (62%) and operational staff (65%), however, were less confident than senior managers about other employees understanding their responsibilities for preventing and detecting fraud.
What one respondent has said:
PwC comment:
Combating fraud is everyone's responsibility. Public sector leaders and senior managers are critical role models. It is important that they set the right tone at the top and ensure all staff understand their responsibilities and know what to do when fraud is discovered.
"I'm not in a management position and so I'm not involved in fraud prevention or policy. However, we are all aware of our responsibilities and are kept well-informed by our corporate services manager and other managers. I am comfortable discussing any issues regarding appropriate conduct etc. with the relevant managers and I'm certain that our organisation is run 'by the book'."
 
Yes
No
Don't know
Total Count
Chief Executive Officer/Managing Director/Principal
313
82%
37
10%
33
9%
383
Member of the senior executive/leadership team or equivalent
350
71%
71
14%
71
14%
492
Line manager (if not one of the above)
136
62%
41
19%
44
20%
221
Administration/Support Services
161
80%
11
5%
29
14%
201
Operational staff (e.g. Teacher, Analyst, Advisor, Technician, Officer, Engineer, Accountant)
89
65%
21
15%
27
20%
137
Total
1,049
73%
181
13%
204
14%
1,434
 
Yes
No
Don't know
Total
Central Government
 
 
 
 
 
 
 
Autonomous Crown Entities
43
80%
5
9%
6
11%
54
Central Government - Other
35
76%
4
9%
7
15%
46
Crown Agents or Companies 
67
77%
10
11%
10
11%
87
Crown Research Institutes
27
71%
5
13%
6
16%
38
District Health Boards
37
53%
18
26%
15
21%
70
Government Departments
105
71%
18
12%
24
16%
147
Independent Crown Entities
29
78%
2
5%
6
16%
37
Māori Trust Boards
8
73%
2
18%
1
9%
11
Rural Education Activities Programmes
9
82%
1
9%
1
9%
11
State-Owned Enterprises
34
71%
6
13%
8
17%
48
Tertiary Education Institutions
53
58%
19
21%
19
21%
91
Sub-Total
447
70%
90
14%
103
16%
640
 
Yes
No
Don't know
Total
Local Government
 
 
 
 
 
 
 
Airports
14
74%
2
11%
3
16%
19
Council Controlled Organisations or Council Controlled Trading Organisations
56
75%
6
8%
13
17%
75
Energy Companies
20
71%
5
18%
3
11%
28
Fish and Game Councils
8
100%
0
0%
0
0%
8
Licensing and Community Trusts
5
56%
3
33%
1
11%
9
Local Authorities
109
64%
35
21%
25
15%
169
Local Government - Other 
9
82%
2
18%
0
0%
11
Port Companies
1
33%
0
0%
2
67%
3
Sub-Total
222
69%
53
16%
47
15%
322
 
 
 
 
 
 
 
 
Schools
380
81%
38
8%
54
11%
472
Total
1,049
73%
181
13%
204
14%
1,434
page top