4. The staff Code of Conduct is communicated regularly (annually or biannually).
Public Sector Fraud Awareness Survey - Findings: Fraud prevention.
Observation: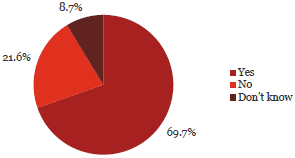 69.7% of respondents said their Code of Conduct is communicated regularly.
79% of Chief Executives indicated that their Code of Conduct was communicated regularly, however 62% of line managers and 54% of operational staff indicated similarly. This may indicate that communication of the Code of Conduct has been ineffective.
What some respondents have said:
"Procurement run regular training sessions on being open and transparent and HR run courses on code of conduct."
"All employees are regularly reminded about the organisation's Code of Ethical Conduct and the Protected Disclosures Policy. "
"Awareness of fraud and expected Code of Conduct is articulated, however there are improvements that could be made but it is a principle of diminishing returns for the extra effort."
PwC comment:
The Code of Conduct and related fraud policies should be discussed with staff on a regular (annual or biannual) basis.
"It would be useful for our organisation to refresh us on our code of conduct every year and publish our fraud policy and who and what gets done... this may act as a deterrent to those considering the risks v the gains of committing fraud. Thanks for the opportunity to participate."
 
Yes
No
Don't know
Total Count
Chief Executive Officer/Managing Director/Principal
273
79%
60
17%
13
4%
346
Member of the senior executive/leadership team or equivalent
325
71%
97
21%
38
8%
460
Line manager (if not one of the above)
127
62%
60
29%
19
9%
206
Administration/Support Services
124
70%
30
17%
22
13%
176
Operational staff (e.g. Teacher, Analyst, Advisor, Technician, Officer, Engineer, Accountant)
72
54%
39
29%
23
17%
134
Total
921
70%
286
22%
115
9%
1,322
 
Yes
No
Don't know
Total
Central Government
 
 
 
 
 
 
 
Autonomous Crown Entities
43
80%
7
13%
4
7%
54
Central Government - Other
23
53%
15
35%
5
12%
43
Crown Agents or Companies 
61
73%
15
18%
8
10%
84
Crown Research Institutes
25
71%
8
23%
2
6%
35
District Health Boards
41
60%
21
31%
6
9%
68
Government Departments
103
71%
35
24%
8
5%
146
Independent Crown Entities
18
56%
8
25%
6
19%
32
Māori Trust Boards
6
60%
3
30%
1
10%
10
Rural Education Activities Programmes
7
64%
3
27%
1
9%
11
State-Owned Enterprises
30
68%
9
20%
5
11%
44
Tertiary Education Institutions
56
67%
19
23%
8
10%
83
Sub-Total
413
68%
143
23%
54
9%
610
 
Yes
No
Don't know
Total
Local Government
 
 
 
 
 
 
 
Airports
7
47%
3
20%
5
33%
15
Council Controlled Organisations or Council Controlled Trading Organisations
44
70%
11
17%
8
13%
63
Energy Companies
11
48%
12
52%
0
0%
23
Fish and Game Councils
5
71%
2
29%
0
0%
7
Licensing and Community Trusts
6
75%
2
25%
0
0%
8
Local Authorities
86
54%
58
37%
14
9%
158
Local Government - Other 
4
40%
5
50%
1
10%
10
Port Companies
0
0%
2
100%
0
0%
2
Sub-Total
163
57%
95
33%
28
10%
286
 
 
 
 
 
 
 
 
Schools
345
81%
48
11%
33
8%
426
Total
921
70%
286
22%
115
9%
1,322
page top