2. The Fraud Policy is communicated regularly (annually or biannually)
Public Sector Fraud Awareness Survey - Findings: Fraud prevention.
Observation: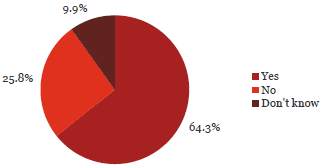 64.3% of respondents said their fraud policy is communicated regularly.
76% of Chief Executives indicated that their fraud policy was communicated regularly. However, only 51% of line managers and 47% of operational staff indicated similarly.
Organisations with better communication of existing fraud policies had a slightly decreased occurrence of fraud (23% compared with 28%).
Employees who had been at the organisation for a longer period have greater awareness of a fraud policy. Around 80% of employees who had been with the organisation for more than 3 years identified that their organisation had a fraud policy compared with around 60% of employees that have been at the organisation for less than a year.
What some respondents have said:
"We don't do annual communication of fraud policy because it is communicated constantly. Fraud is only a subset of unacceptable behaviours and they are communicated together. We have other controls in place that are not picked up in your survey."
PwC comment:
We often see a perception gap between senior managers and the rest of the organisation. Where this occurs, this may indicate that management's communication of the fraud policy has been ineffective.
"We have a detailed policy on sensitive expenditure and gifts. I am unaware as to how well the detail of this is understood at below line manager level, but am certain that all employees are aware of the implicit requirements of the code of conduct."
"We have recently established a fraud policy and are due to roll out across the department including training for managers and employees. Fraud is also covered as part of the Code of Conduct training."
"We have policy but whether our efforts to convey that to our employees is effective is not known at this stage."
 
Yes
No
Don't know
Total
Count 
Chief Executive Officer/Managing Director/Principal
247
76%
61
19%
17
5%
325
Member of the senior executive/leadership team or equivalent
244
62%
115
29%
34
9%
393
Line manager (if not one of the above)
83
51%
57
35%
23
14%
163
Administration/Support Services
116
69%
30
18%
21
13%
167
Operational staff (e.g. Teacher, Analyst, Advisor, Technician, Officer, Engineer, Accountant)
45
47%
32
34%
18
19%
95
Total
735
64%
295
26%
113
10%
1,143
 
Yes
No
Don't know
Total
Central Government
 
 
 
 
 
 
 
Autonomous Crown Entities
37
73%
11
22%
3
6%
51
Central Government - Other
25
68%
7
19%
5
14%
37
Crown Agents or Companies
55
71%
18
23%
5
6%
78
Crown Research Institutes
19
59%
9
28%
4
13%
32
District Health Boards
32
58%
15
27%
8
15%
55
Government Departments
60
50%
42
35%
17
14%
119
Independent Crown Entities
18
56%
8
25%
6
19%
32
Māori Trust Boards
3
50%
2
33%
1
17%
6
Rural Education Activities Programmes
3
38%
4
50%
1
13%
8
State-Owned Enterprises
25
64%
10
26%
4
10%
39
Tertiary Education Institutions
61
76%
14
18%
5
6%
80
Sub-Total
338
63%
140
26%
59
11%
537
 
Yes
No
Don't know
Total
Local Government
 
 
 
 
 
 
 
Airports
7
50%
5
36%
2
14%
14
Council Controlled Organisations or Council Controlled Trading Organisations
44
70%
11
17%
8
13%
63
Energy Companies
11
58%
7
37%
1
5%
19
Fish and Game Councils
5
71%
2
29%
0
0%
7
Licensing and Community Trusts
2
40%
3
60%
0
0%
5
Local Authorities
66
50%
54
41%
13
10%
133
Local Government - Other
1
25%
2
50%
1
25%
4
Port Companies
0
0%
0
0%
0
0%
0
Sub-Total 
136
56%
84
34%
25
10%
245
 
 
 
 
 
 
 
 
Schools
261
72%
71
20%
29
8%
361
Total
735
64%
295
26%
113
10%
1,143
page top