3. My organisation has a staff Code of Conduct.
Public Sector Fraud Awareness Survey - Findings: Fraud prevention.
Observation: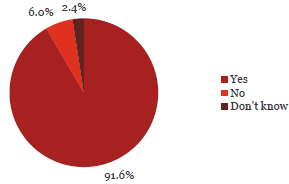 91.6% of participants said their organisation had a Code of Conduct.
Chief executives (90%), senior managers (93%), line managers (93%) and general staff indicated high awareness of a Code of Conduct in their organisation.
What some respondents have said:
"Processes have improved as the result of a fraudulent act in our work place. My workplace has zero tolerance of Fraud and a Code of Conduct."
PwC comment:
All organisations should have a Code of Conduct. It is often the one document that sets out both the expected behaviours and the consequences for misconduct. The Code of Conduct is often the hub for other policies, e.g. the fraud policy.
"I'm sure that we have some kind of system here but frankly it seems it is passive rather than active. We have our Code of Conduct online but we do not have an annual reminder. I have only seen fraud information as a general reminder to managers to be vigilant in these tough economic times."
"Code of Conduct has embedded fraud policy requirements in it – seen as more powerful way of cementing good behaviour than separate policy."
"We are currently reviewing our fraud policy (last reviewed in depth in 2006), to ensure it aligns with our recently updated sensitive expenditure policies and code of conduct."
 
Yes
No
Don't know
Total Count
Chief Executive Officer/Managing Director/Principal
346
90%
34
9%
4
1%
384
Member of the senior executive/leadership team or equivalent
460
93%
27
5%
8
2%
495
Line manager (if not one of the above)
206
93%
8
4%
7
3%
221
Administration/Support Services
175
86%
14
7%
14
7%
203
Operational staff (e.g. Teacher, Analyst, Advisor, Technician, Officer, Engineer, Accountant)
134
96%
3
2%
2
1%
139
Total
1,321
92%
86
6%
35
2%
1,442
 
Yes
No
Don't know
Total
Central Government
 
 
 
 
 
 
 
Autonomous Crown Entities
54
100%
0
0%
0
0%
54
Central Government - Other
44
94%
1
2%
2
4%
47
Crown Agents or Companies 
84
97%
2
2%
1
1%
87
Crown Research Institutes
35
92%
3
8%
0
0%
38
District Health Boards
68
97%
1
1%
1
1%
70
Government Departments
146
98%
1
1%
2
1%
149
Independent Crown Entities
32
86%
4
11%
1
3%
37
Māori Trust Boards
10
91%
1
9%
0
0%
11
Rural Education Activities Programmes
11
100%
0
0%
0
0%
11
State-Owned Enterprises
44
92%
3
6%
1
2%
48
Tertiary Education Institutions
83
91%
6
7%
2
2%
91
Sub-Total
611
95%
22
3%
10
2%
643
 
Yes
No
Don't know
Total
Local Government
 
 
 
 
 
 
 
Airports
15
75%
4
20%
1
5%
20
Council Controlled Organisations or Council Controlled Trading Organisations
63
83%
9
12%
4
5%
76
Energy Companies
23
82%
5
18%
0
0%
28
Fish and Game Councils
7
88%
1
13%
0
0%
8
Licensing and Community Trusts
8
89%
1
11%
0
0%
9
Local Authorities
157
93%
7
4%
5
3%
169
Local Government - Other 
10
91%
1
9%
0
0%
11
Port Companies
2
67%
1
33%
0
0%
3
Sub-Total
285
88%
29
9%
10
3%
324
 
 
 
 
 
 
 
 
Schools
425
89%
35
7%
15
3%
475
Total
1,321
92%
86
6%
35
2%
1,442
page top