1. My organisation has a Fraud Policy.
Public Sector Fraud Awareness Survey - Findings: Fraud prevention.
Observation: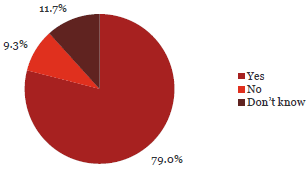 79% of participants said their organisation had a fraud policy.
Senior staff were more aware of their organisation having a fraud policy. 84% of Chief Executives, 79% of senior managers and 73% of line managers said they had a fraud policy.
82% of administration and support staff and 68% of operational staff said their organisation had a fraud policy.
What some respondents have said:
"Although we do not have a "fraud policy" we cover fraud off in other policies."
PwC comment:
A lack of clarity in policies and in management's communication of those policies may not set the appropriate "tone at the top." It may cause employees (especially those at lower levels) to believe that the organisation does not take such risks seriously and so may not report their concerns to management.
"We have relatively good processes but no specific "Fraud Policy". To date things seems to work well and an eye is kept on things to avoid risks in this area."
"We are very aware of the possibility and I have used outsiders to carry out audits in addition to the normal audits. A formal policy seems over the top for an organisation of just 11 people."
"Fraud is not an issue for our organisation and as such does not require any formal prevention measures other than being part of policy document and induction pack for new staff."
 
Yes
No
Don't know
Total Count
Chief Executive Officer/Managing Director/Principal
323
84%
51
12%
11
3%
385
Member of the senior executive/leadership team or equivalent
395
79%
44
9%
58
11%
497
Line manager (if not one of the above)
162
73%
20
9%
39
18%
221
Administration/Support Services
169
82%
10
5%
26
13%
205
Operational staff (e.g. Teacher, Analyst, Advisor, Technician, Officer, Engineer, Accountant)
94
68%
10
7%
35
25%
139
Total
1,143
79%
135
9%
169
12%
1,447
 
Yes
No
Don't know
Total
Central Government
 
 
 
 
 
 
 
Autonomous Crown Entities
51
94%
1
2%
2
4%
54
Central Government - Other
37
79%
7
15%
3
6%
47
Crown Agents or Companies
78
90%
3
3%
6
7%
87
Crown Research Institutes
32
84%
3
8%
3
8%
38
District Health Boards
57
79%
2
3%
13
18%
72
Government Departments
118
79%
9
6%
22
15%
149
Independent Crown Entities
32
86%
1
3%
4
11%
37
Māori Trust Boards
6
55%
4
36%
1
9%
11
Rural Education Activities Programmes
8
73%
2
18%
1
9%
11
State-Owned Enterprises
40
82%
5
10%
4
8%
49
Tertiary Education Institutions
80
88%
1
1%
10
11%
91
Sub-Total
539
83%
38
6%
69
11%
646
 
Yes
No
Don't know
Total
Local Government
 
 
 
 
 
 
 
Airports
14
70%
0
0%
6
30%
20
Council Controlled Organisations or Council Controlled Trading Organisations
63
83%
9
12%
4
5%
76
Energy Companies
19
68%
7
25%
2
7%
28
Fish and Game Councils
7
88%
1
13%
0
0%
8
Licensing and Community Trusts
5
56%
4
44%
0
0%
9
Local Authorities
133
79%
19
11%
17
10%
169
Local Government - Other
4
36%
7
64%
0
0%
11
Port Companies
0
0%
2
67%
1
33%
3
Sub-Total 
245
76%
49
15%
30
9%
324
 
 
 
 
 
 
 
 
Schools
359
75%
48
10%
70
15%
477
Total 
1,143
79%
135
9%
169
12%
1,447
page top