5. My organisation has a clear policy on accepting gifts or services.
Public Sector Fraud Awareness Survey - Findings: Fraud prevention.
Observation: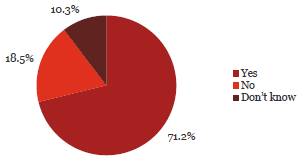 71.2% of respondents indicated that their organisation has a gifts policy.
29.8% said receiving gifts was never acceptable (see question 6).
63% of Chief Executive said they had a clear gifts policy. More line managers (86%), senior executive (76%) and operational staff (73%) said that their organisation had a clear gifts policy.
What some respondents have said:
"Acceptable provided it is below monetary limits as outlined in gift policy, is declared to manager and/on internal register and does not place you in a position whereby your financial decision making is influenced. For example: not acceptable to accept before or during contract negotiations."
PwC comment:
The giving and receiving of gifts, especially for public entities, needs to be carefully managed and transparent. If not, questions about conflicts of interest can arise. Staff need to clearly understand what types of gift and entertainment, and under what circumstances, are acceptable.
"Cannot be seen as compromising integrity."
"Value limits are placed on any gifts in addition to restrictions due to any real or perceived undue influence that might arise as a result of a gift (e.g. gifts received when a contract is in the process of being tendered)."
"Children often thank teachers with small gifts. Parents sometimes give the school small gifts."
 
Yes
No
Don't know
Total Count
Chief Executive Officer/Managing Director/Principal
243
63%
123
32%
18
5%
384
Member of the senior executive/leadership team or equivalent
374
76%
68
14%
52
11%
494
Line manager (if not one of the above)
190
86%
15
7%
16
7%
221
Administration/Support Services
117
58%
43
21%
42
21%
202
Operational staff (e.g. Teacher, Analyst, Advisor, Technician, Officer, Engineer, Accountant)
101
73%
17
12%
21
15%
139
Total
1,025
71%
266
18%
149
10%
1,440
 
Yes
No
Don't know
Total
Central Government
 
 
 
 
 
 
 
Autonomous Crown Entities
53
98%
1
2%
0
0%
54
Central Government - Other
36
78%
6
13%
4
9%
46
Crown Agents or Companies 
84
97%
1
1%
2
2%
87
Crown Research Institutes
33
87%
2
5%
3
8%
38
District Health Boards
63
90%
3
4%
4
6%
70
Government Departments
144
97%
2
1%
3
2%
149
Independent Crown Entities
35
95%
2
5%
0
0%
37
Māori Trust Boards
6
55%
3
27%
2
18%
11
Rural Education Activities Programmes
4
36%
6
55%
1
9%
11
State-Owned Enterprises
44
92%
3
6%
1
2%
48
Tertiary Education Institutions
77
85%
4
4%
10
11%
91
Sub-Total
579
90%
33
5%
30
5%
642
 
Yes
No
Don't know
Total
Local Government
 
 
 
 
 
 
 
Airports
14
70%
2
10%
4
20%
20
Council Controlled Organisations or Council Controlled Trading Organisations
64
84%
6
8%
6
8%
76
Energy Companies
22
79%
6
21%
0
0%
28
Fish and Game Councils
5
63%
1
13%
2
25%
8
Licensing and Community Trusts
2
22%
6
67%
1
11%
9
Local Authorities
137
81%
20
12%
12
7%
169
Local Government - Other 
4
36%
6
55%
1
9%
11
Port Companies
2
67%
1
33%
0
0%
3
Sub-Total
250
77%
48
15%
26
8%
324
 
 
 
 
 
 
 
 
Schools
196
41%
185
39%
93
20%
474
Total
1,025
71%
266
18%
149
10%
1,440
page top