20. When fraud or corruption risks are raised at my organisation, my organisation takes proactive steps to reduce the risk.
Public Sector Fraud Awareness Survey - Findings: Fraud detection.
Observation: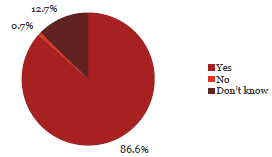 86.6% of respondents say their organisation takes proactive steps to reduce fraud risk.
This view was shared by senior managers and staff alike and across all sectors.
What some respondents have said:
"Our CEO is proactive on these matters and he reminds staff about the need for staying alert to fraud and corruption issues regularly at staff meetings."
"I believe the risks for this organisation are very low, we are a medium size business with a large number of transactions being processed through automated approval system with approved suppliers."
PwC comment:
Although organisations should be able to trust their employees to do the right thing, having trusted employees is not a fraud control. Many instances of fraud have been committed by trusted employees. Organisations need to be able to verify that their staff are complying with policies and procedures, and include fraud risk management as a component of business-as-usual risk management.
"We run electronic detection software over accounts payable and payroll data on a regular basis searching for irregularities and fraud."
"We do work on a high trust model. But I think there are enough checks in place through audit and the Finance person on the Board and Our school Manager and accounts person."
"We have checks in place by separate staff in most areas where fraud could occur. We also are audited each year by Audit NZ. We have reduced the number of solo roles and have backup people to carry out everyone's jobs except for one position which we also intend to ensure that person does not hold all the intellectual information alone."
 
Yes
No
Don't know
Total Count
Chief Executive Officer/Managing Director/Principal
359
94%
1
0%
23
6%
383
Member of the senior executive/leadership team or equivalent
453
92%
4
1%
33
7%
490
Line manager (if not one of the above)
161
74%
3
1%
55
25%
219
Administration/Support Services
167
84%
1
1%
32
16%
200
Operational staff (e.g. Teacher, Analyst, Advisor, Technician, Officer, Engineer, Accountant)
96
71%
1
1%
39
29%
136
Other (please specify)
1,236
87%
10
1%
182
13%
1,428
 
Yes
No
Don't know
Total Count
Central Government
 
 
 
 
 
 
 
Autonomous Crown Entities
51
94%
0
0%
3
6%
54
Central Government - Other
45
100%
0
0%
0
0%
45
Crown Agents or Companies 
84
97%
1
1%
2
2%
87
Crown Research Institutes
37
97%
0
0%
1
3%
38
District Health Boards
55
79%
1
1%
14
20%
70
Government Departments
134
92%
2
1%
9
6%
145
Independent Crown Entities
35
95%
0
0%
2
5%
37
Māori Trust Boards
10
91%
1
9%
0
0%
11
Rural Education Activities Programmes
11
100%
0
0%
0
0%
11
State-Owned Enterprises
46
98%
0
0%
1
2%
47
Tertiary Education Institutions
87
96%
0
0%
4
4%
91
Sub-Total
595
94%
5
1%
36
6%
636
 
Yes
No
Don't know
Total Count
Local Government
 
 
 
 
 
 
 
Airports
14
74%
0
0%
5
26%
19
Council Controlled Organisations or Council Controlled Trading Organisations
62
83%
1
1%
12
16%
75
Energy Companies
25
89%
0
0%
3
11%
28
Fish and Game Councils
8
100%
0
0%
0
0%
8
Licensing and Community Trusts
8
89%
0
0%
1
11%
9
Local Authorities
145
86%
3
2%
21
12%
169
Local Government - Other 
9
82%
0
0%
2
18%
11
Port Companies
2
100%
0
0%
0
0%
2
Sub-Total
273
85%
4
1%
44
14%
321
 
 
 
 
 
 
 
 
Schools
422
90%
4
1%
44
9%
470
Total
1,236
87%
10
1%
182
13%
1,428
page top