21. Credit card expenditure is closely monitored.
Public Sector Fraud Awareness Survey - Findings: Fraud detection.
Observation: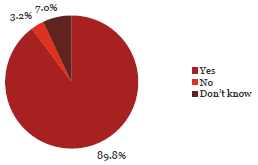 89.8% of respondents said credit card expenses are closely monitored in their organisation.
This view was shared by senior managers and staff alike and across all sectors.
What some respondents have said:
"Credit card and staff expenses are monitored closely and any irregularities followed up with the employee concerned. Where appropriate, monies are recovered, however while the employee concerned may be advised of the inappropriateness of their behaviour, it may not always lead to formal disciplinary actions."
PwC comment:
Recent scrutiny of sensitive expenditure demands that public sector organisations remain vigilant to inappropriate spending of public monies.
"The school doesn't have credit cards, the only staff member with an expenses type account is the Principal that is monitored and reviewed as are all department expenses they are cross checked and signed off by 3 staff members."
 
Yes
No
Don't know
Total Count
Chief Executive Officer/Managing Director/Principal
346
91%
26
7%
10
3%
382
Member of the senior executive/leadership team or equivalent
468
96%
5
1%
16
3%
489
Line manager (if not one of the above)
193
88%
3
1%
23
11%
219
Administration/Support Services
166
83%
10
5%
24
12%
200
Operational staff (e.g. Teacher, Analyst, Advisor, Technician, Officer, Engineer, Accountant)
107
79%
2
1%
27
20%
136
Total
1,280
90%
46
3%
100
7%
1,426
 
Yes
No
Don't know
Total Count
Central Government
 
 
 
 
 
 
 
Autonomous Crown Entities
51
94%
0
0%
3
6%
54
Central Government - Other
45
100%
0
0%
0
0%
45
Crown Agents or Companies 
84
97%
1
1%
2
2%
87
Crown Research Institutes
37
97%
0
0%
1
3%
38
District Health Boards
55
79%
1
1%
14
20%
70
Government Departments
134
92%
2
1%
9
6%
145
Independent Crown Entities
35
95%
0
0%
2
5%
37
Māori Trust Boards
10
91%
1
9%
0
0%
11
Rural Education Activities Programmes
11
100%
0
0%
0
0%
11
State-Owned Enterprises
46
98%
0
0%
1
2%
47
Tertiary Education Institutions
87
96%
0
0%
4
4%
91
Sub-Total
595
94%
5
1%
36
6%
636
 
Yes
No
Don't know
Total Count
Local Government
 
 
 
 
 
 
 
Airports
16
84%
0
0%
3
16%
19
Council Controlled Organisations or Council Controlled Trading Organisations
73
97%
0
0%
2
3%
75
Energy Companies
25
89%
0
0%
3
11%
28
Fish and Game Councils
8
100%
0
0%
0
0%
8
Licensing and Community Trusts
7
78%
1
11%
1
11%
9
Local Authorities
150
89%
2
1%
17
10%
169
Local Government - Other 
9
82%
1
9%
1
9%
11
Port Companies
2
100%
0
0%
0
0%
2
Sub-Total
290
90%
4
1%
27
8%
321
 
 
 
 
 
 
 
 
Schools
395
84%
37
8%
37
8%
469
Total
1,280
90%
46
3%
100
7%
1,426
page top