19. There is a whistleblower hotline at my organisation.
Public Sector Fraud Awareness Survey - Findings: Fraud detection.
Observation: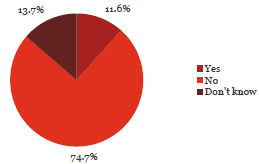 74.7% of respondents said that their organisation did not have a whistleblower hotline.
The lack of a whistleblower hotline was reflected across all roles and levels of organisations and all sectors.
Organisations with a whistleblower hotline reported more instances of fraud. Of those that answered "Yes" to this question, 38% reported instances of fraud in the past 2 years, compared with 21% of those that answered "No".
What some respondents have said:
"There haven't been any whistleblower, theft or fraud cases surface in the three years I have been in the organisation."
"While there is not a whistleblower hotline, there are nominated staff in the policy that can be approached to raise issues under this policy."
"While we do not have a "whistle blower" hot line we have a Protected Disclosure Policy that sets out the approach for staff that may have the need to lodge a formal compliant."
PwC comment:
A well-communicated whistleblower system is one of the best tools that an organisation can employ to help mitigate the risks of fraud and other reputational harm. However, the success (or otherwise) of a whistleblower system depends to a large degree on how it is set up, operated, communicated and accepted by the organisation's staff.
"We are a small organisation and some processes such as whistle blower hotline are not necessarily needed."
"Too small to have a whistleblower hotline - but all staff have access to the chairman and Board directors, including work and cell-phones and also can access them anonymously."
"Current policy on protected disclosure is in draft form. Hotline is though Crimestoppers dedicated line but would hope that internal reporting policy will be the primary route for disclosure."
 
Yes
No
Don't know
Total Count
Chief Executive Officer/Managing Director/Principal
45
12%
320
84%
18
5%
383
Member of the senior executive/leadership team or equivalent
78
16%
362
74%
50
10%
490
Line manager (if not one of the above)
23
11%
153
70%
43
20%
219
Administration/Support Services
16
8%
142
71%
42
21%
200
Operational staff (e.g. Teacher, Analyst, Advisor, Technician, Officer, Engineer, Accountant)
4
3%
90
66%
42
31%
136
Total
166
12%
1067
75%
195
14%
1,428
 
Yes
No
Don't know
Total Count
Central Government
 
 
 
 
 
 
 
Autonomous Crown Entities
8
15%
42
78%
4
7%
54
Central Government - Other
3
7%
35
78%
7
16%
45
Crown Agents or Companies 
11
13%
64
74%
12
14%
87
Crown Research Institutes
8
21%
28
74%
2
5%
38
District Health Boards
11
16%
43
61%
16
23%
70
Government Departments
20
14%
93
64%
33
23%
146
Independent Crown Entities
1
3%
29
78%
7
19%
37
Māori Trust Boards
0
0%
11
100%
0
0%
11
Rural Education Activities Programmes
0
0%
11
100%
0
0%
11
State-Owned Enterprises
9
19%
29
62%
9
19%
47
Tertiary Education Institutions
22
24%
53
58%
16
18%
91
Sub-Total
93
15%
438
69%
106
17%
637
 
Yes
No
Don't know
Total Count
Local Government
 
 
 
 
 
 
 
Airports
1
5%
13
68%
5
26%
19
Council Controlled Organisations or Council Controlled Trading Organisations
10
13%
59
79%
6
8%
75
Energy Companies
6
21%
21
75%
1
4%
28
Fish and Game Councils
0
0%
7
88%
1
13%
8
Licensing and Community Trusts
0
0%
9
100%
0
0%
9
Local Authorities
22
13%
128
76%
19
11%
169
Local Government - Other 
0
0%
11
100%
0
0%
11
Port Companies
0
0%
2
100%
0
0%
2
Sub-Total
39
12%
250
78%
32
10%
321
 
 
 
 
 
 
 
 
Schools
34
7%
379
81%
57
12%
470
Total
166
12%
1,067
75%
195
14%
1,428
page top