18. My organisation has a Protected Disclosures Policy (or similar).
Public Sector Fraud Awareness Survey - Findings: Fraud detection.
Observation: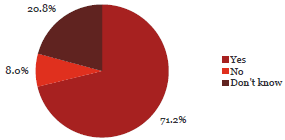 71.2% of respondents said that their organisation had a protected disclosure policy.
Chief Executives (82%), senior managers (72%) and line managers (73%) had greater awareness of the policy than did general staff.
Organisations that had a protected disclosure policy reported more incidences of fraud. Of those that answered "Yes" to this question, 25% reported instances of fraud over the past 2 years compared with 19% of those that answered "No".
What some respondents have said:
"We have a Whistleblower policy but not a hotline."
"Don't have a whistleblower hotline but do have a policy and contact people to make disclosures to."
PwC comment:
Public sector organisations must have a protected disclosures policy and operating regime that allows staff to raise concerns of serious wrongdoing, safely and without fear of retribution. It is our experience that many organisations do not properly communicate their protected disclosures regime to their staff.
"While there is not a whistleblower hotline, there are nominated staff in the policy that can be approached to raise issues under this policy."
"While we do not have a "whistle blower" hot line we have a Protected Disclosure Policy that sets out the approach for staff that may have the need to lodge a formal complaint."
"Current policy on protected disclosure is in draft form. Hotline is though Crimestoppers dedicated line but would hope that internal reporting policy will be the primary route for disclosure."
 
Yes
No
Don't know
Total Count
Chief Executive Officer/Managing Director/Principal
314
82%
37
10%
32
8%
383
Member of the senior executive/leadership team or equivalent
352
72%
52
11%
86
18%
490
Line manager (if not one of the above)
159
73%
8
4%
52
24%
219
Administration/Support Services
120
60%
11
6%
69
35%
200
Operational staff (e.g. Teacher, Analyst, Advisor, Technician, Officer, Engineer, Accountant)
72
53%
6
4%
58
43%
136
Total
1,017
71%
114
8%
297
21%
1,428
 
Yes
No
Don't know
Total Count
Central Government
 
 
 
 
 
 
 
Autonomous Crown Entities
47
87%
1
2%
6
11%
54
Central Government - Other
28
62%
8
18%
9
20%
45
Crown Agents or Companies 
66
76%
5
6%
16
18%
87
Crown Research Institutes
33
87%
1
3%
4
11%
38
District Health Boards
45
64%
4
6%
21
30%
70
Government Departments
110
75%
6
4%
30
21%
146
Independent Crown Entities
23
62%
4
11%
10
27%
37
Māori Trust Boards
3
27%
4
36%
4
36%
11
Rural Education Activities Programmes
5
45%
3
27%
3
27%
11
State-Owned Enterprises
40
85%
0
0%
7
15%
47
Tertiary Education Institutions
75
82%
2
2%
14
15%
91
Sub-Total
475
75%
38
6%
124
19%
637
 
Yes
No
Don't know
Total Count
Local Government
 
 
 
 
 
 
 
Airports
11
58%
3
16%
5
26%
19
Council Controlled Organisations or Council Controlled Trading Organisations
37
49%
14
19%
24
32%
75
Energy Companies
13
46%
8
29%
7
25%
28
Fish and Game Councils
4
50%
3
38%
1
13%
8
Licensing and Community Trusts
2
22%
6
67%
1
11%
9
Local Authorities
129
76%
10
6%
30
18%
169
Local Government - Other 
3
27%
7
64%
1
9%
11
Port Companies
0
0%
2
100%
0
0%
2
Sub-Total
199
62%
53
17%
69
21%
321
 
 
 
 
 
 
 
 
Schools
343
73%
23
5%
104
22%
470
Total
1,017
71%
114
8%
297
21%
1,428
page top