Part 1: Introduction
Ministry of Agriculture and Forestry: Management of Biosecurity Risks.
What Is Biosecurity?
1.1
"Biosecurity" can be described as:
the protection of the economy, environment, and people's health from the risks posed by unwanted exotic pests and diseases entering the country; and
the control of endemic pests and diseases within the country.
1.2
Threats to the economy, environment, and people's health include the pests and diseases themselves and the pathways by which they may enter the country.
1.3
Geographic isolation has given New Zealand an advantage in the battle to protect its biodiversity, human health, and primary production industries from pests and diseases that are present elsewhere. But, equally, New Zealand has a lot to lose from biosecurity breaches – some of which could cause substantial damage to the economy, environment, and/or public health.
1.4
The management of biosecurity risks is a complex, multi-agency business that is constantly changing as new threats emerge, and new methods to combat these threats are developed.
Who Is Involved in Managing Biosecurity Risks?
1.5
A wide range of governmental agencies and private sector companies is involved in managing biosecurity risks. The general public also has an important role to play. The various parties are illustrated in Figure 1 on the next page.
Central Government
1.6
Four government departments ("the four main departments") have the following broad biosecurity responsibilities:
Ministry of Agriculture and Forestry (MAF) – pests and diseases in the terrestrial and fresh water environment that affect the primary production industry, animal welfare, and indigenous flora and fauna;
Department of Conservation (DOC) – indigenous flora and fauna;
Ministry of Health (MoH) – people's health – such as disease-spreading mosquitoes; and
Ministry of Fisheries – marine environment.
Figure 1
Who Manages Biosecurity Risks?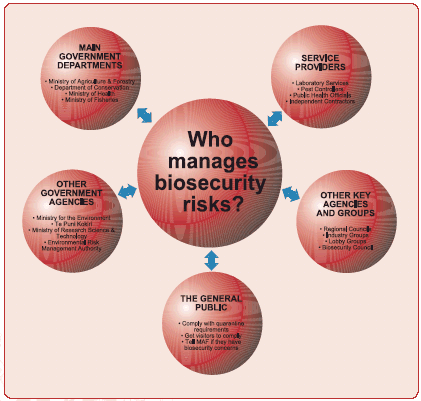 1.7
Each department is funded to manage biosecurity risks relevant to its areas of responsibility, and each has at least one Chief Technical Officer appointed under the Biosecurity Act 1993 with specific responsibilities.
1.8
Other departments and agencies – including the Ministry for the Environment, the Environmental Risk Management Authority, the Ministry of Research, Science and Technology, and Te Puni Kōkiri – contribute to the Government's Biosecurity Programme1, the implementation of which MAF co-ordinates (see Part Six starting on page 81).
The Biosecurity Council
1.9
Representatives from the four main departments, other government agencies, and environmental and industry groups are also involved in managing biosecurity risk as members of the Biosecurity Council. The Council provides advice on biosecurity matters to the Minister for Biosecurity, and co-ordinates activities between government departments and other agencies that have biosecurity responsibilities.
1.10
Further information about the role and responsibilities of the Biosecurity Council is provided in paragraphs 4.90-4.98 on pages 66-68.
Regional Councils
1.11
Regional councils play a key role in managing biosecurity risks, particularly in relation to weed and pest control and management. They do this by developing regional pest management strategies2 and small-scale management programmes.
Private Sector
1.12
Some industry groups also develop pest management strategies for the management of biosecurity risks harmful to their industries. To date, only two pest management strategies have been approved – for bovine tuberculosis and for American foulbrood in bees.
1.13
Individuals and companies are contracted by government departments and agencies to provide a range of services – including surveillance programmes, incursion response activities, laboratory diagnostic services, and research.
The General Public
1.14
The general public has a very important role to play in helping to strengthen biosecurity by:
complying with quarantine requirements when entering the country;
informing visiting friends and relatives of the need to not endanger New Zealand's economy and unique biodiversity; and
being vigilant and informing MAF of any plants, pests, or diseases that they suspect could pose a biosecurity threat to the country.
The Government's Biosecurity Strategy
1.15
In November 2000, the Government announced additional funding of $0.96 million for the Biosecurity Council to develop a Biosecurity Strategy by December 2002.
1.16
A Biosecurity Strategy Development Team was established in December 2001. After a process that involved consultation with a wide range of stakeholders, the Team produced a draft strategy document that was considered by the Biosecurity Council in June 2002. This draft is currently under review, and the Strategy is due to be launched in 2003.
1.17
We met with the Strategy Development Team a number of times throughout the audit. The Team has used our findings in the development of the draft Strategy.
How Great Are the Risks and Potential Consequences for New Zealand?
1.18
Figure 2 on the opposite page provides a timetable of some key developments and events in biosecurity since 1993, with references to this and other reports on the subject.
Figure 2
Recent Developments and Events in Biosecurity
Event
Report
1993
Biosecurity Act enacted.
1995
Quarantine detector dog programme training centre established.
Fruit fly detected and eradicated in Auckland.
Controls to Prevent the Entry of Fruit Fly into New Zealand, CAG Third Report for 1994.
1996
Ministry of Forestry eradicated white spotted tussock month from Auckland.
Environmental Risk Management Authority established.
Introduction of detector dogs and X-ray machines at Auckland International Airport.
Page 92 of this report.
1997
Rabbit calicivirus illegally imported and released.
Page 23 of this report.
Ministry of Forestry amalgamated into MAF.
Minister for Biosecurity formed Biosecurity Council.
Page 66 of this report.
1998
Southern saltmarsh mosquito detected in Napier.
Case Studies pages 27-55.
1999
Government-commissioned 'Carter Review' of border services reported.
New Zealand's Border: The Effective and Efficient Management of Border Services, 1999.
Painted apple moth detected in Auckland.
Case Studies pages 57-76.
2000
Varroa bee mite detected in South Auckland.
Case Studies pages 77-94.
Biodiversity strategy launched.
Page 60 of this report.
Parliamentary Commissioner for the Environment published review of the management of biosecurity risks to the environment.
New Zealand Under Siege: A Review of the Management of Biosecurity Risks to the Environment, 2000.
2001
Red imported fire ant detected at Auckland International Airport.
Case Studies pages 95-111.
MAF vets sent to UK to help fight foot and mouth disease.
Case Studies pages 129-150.
Work started on Biosecurity Strategy.
Page 68 of this report.
Biosecurity awareness programme launched.
Page 110 of this report.
Instant fines introduced for people entering New Zealand who make false declarations.
Page 113 of this report.
Importation of Californian table grapes suspended.
Case Studies pages 5-25.
Southern saltmarsh mosquito detected in Kaipara Harbour.
Case Studies pages 27-55.
Illustration of New Zealand's Biosecurity Risk
1.19
The outbreak of foot and mouth disease that was confirmed in the United Kingdom (UK) on 20 February 2001 highlights clearly the importance of having effective biosecurity arrangements. Between February and September 2001, over 2000 premises in the UK were officially declared to be infected by foot and mouth disease, and over six million animals were slaughtered.
1.20
The direct cost of the outbreak to the public sector in the UK is estimated to be over £3,000 million, and over £5,000 million to the private sector, affecting not just the farming industry but general trade and tourism.3 In addition to the financial effects, it had a major impact on the lives of many people – the disease was traumatic for those affected by, and involved in the response to, the outbreak.
1.21
The impact of such an outbreak here would be far more severe. This country is highly dependent, both economically and socially, on its farming industry. In the year ended 31 December 2001, agricultural exports made up 53% of total merchandise exports.4 It is estimated that an outbreak like the one suffered in the UK would result in a $10,000 million loss in export earnings and a drop in the standard of living of 25%.
1.22
While measures in place to prevent the entry of foot and mouth disease into New Zealand have, thus far, been successful, a number of other incursions of a different nature have occurred. These have included:
white spotted tussock moth;
painted apple moth;
varroa bee mite;
southern saltmarsh mosquito;
red imported fire ant;
Argentine ant; and
black widow spider.
1.23
There have also been a number of interceptions at the border of pests such as snakes and spiders.
Increasing Biosecurity Risks
1.24
Large increases in the volume of international trade and the number of people travelling between countries mean that the risks are increasing and the border is under pressure. As shown in the first four graphs in Figure 3 on pages 16-17, these increases are reflected in correspondingly large increases over the last eight years in the numbers of aircraft, passengers, and sea containers entering New Zealand each year. The volume of mail entering the country that is inspected by MAF has shown a similar increase.
1.25
Increased funding (see fifth graph in Figure 3 on page 18) has strengthened some components of the Biosecurity Programme to address the increased risks.
1.26
At the same time as these actual increases in biosecurity risk have occurred, New Zealand's knowledge and understanding of the risks that face the country have also increased. This increase in knowledge and understanding is due to, for example, the greater scientific expertise and technology that can be applied to biosecurity, and an increased appreciation of New Zealand's unique environment. These developments have been accompanied by closer international scrutiny of New Zealand's measures to ensure they do not represent unwarranted barriers to trade.
Figure 3
Increasing Risks to and Costs of New Zealand's Biosecurity
Passenger and crew arrivals, and aircraft arrivals, have increased by 56% and 95% respectively in the eight years from 1993-94 to 2001-02.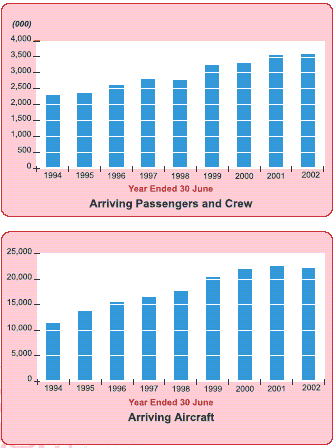 Arriving mail items of MAF interest have also increased5, and 96% more sea containers were landed in 2001-02 than eight years earlier.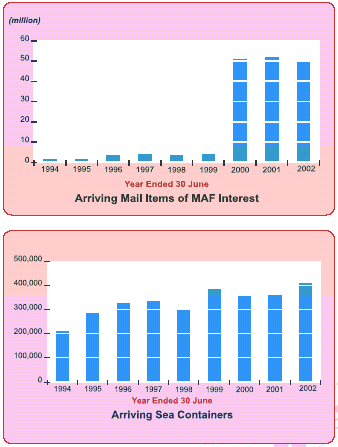 Source for all data in the four previous graphs: Annual Statistics Report 1993/94 – 2001/02, MAF Biosecurity Authority, Border Management Group.
Government expenditure on biosecurity has increased by 55% over the period 1997-98 to 2001-02.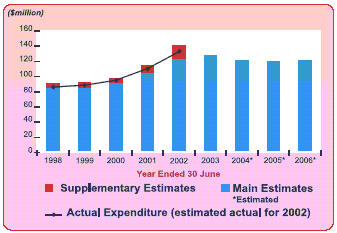 Source: The Estimates of Appropriations for the Government of New Zealand for the Year Ending 30 June 2003, page 103.
Key Terms
1.27
To assist the reader, we list in the following paragraphs explanations of the key terms that we use most often in the report. A glossary of technical terms is provided in Appendix 1 on pages 118-119.
1.28
Biodiversity is the number and variety of species of flora and fauna in an ecosystem.
1.29
Biosecurity is protection from the risks posed by organisms to the economy, environment and people's health, through exclusion, eradication, and control (Biosecurity Council working definition, 2000). Terrestrial biosecurity (the focus of this audit) is concerned with biosecurity risks to the primary production sector, the environment, and public health. Marine biosecurity (the responsibility of the Ministry of Fisheries) is concerned with biosecurity risks to the marine environment.
1.30
The Biosecurity Programme is the range of activities and measures designed to protect New Zealand from biosecurity risks. MAF leads the Government's Biosecurity Programme that includes measures such as pre-border risk analysis, border inspections, and surveillance for unwanted pests and diseases.
1.31
Biosecurity Risks are pests and diseases that cause harm to the environment and to the health of people and animals.
1.32
Border refers to the various points at which people, vessels, and goods can enter the country. The coastline forms part of the border. Official border points where people, vessels, and goods are assessed as to whether they are permitted entry conditionally or unconditionally include airports, sea ports, and the New Zealand Post international mail centre in Auckland.
1.33
Import health standards are specifications with which a country's export certification system must comply. Import health standards are one of the first lines of defence against unwanted pests and diseases.
1.34
An Incursion is the entry and establishment of a pest not previously known to be established in New Zealand.
1.35
A Pathway is the way in which an exotic pest or disease may be transported into the country. Pathways include goods, the material in which goods are packaged, containers, luggage, aircraft and vessels, and natural pathways such as wind and the sea.
1.36
A Pest is any noxious or destructive species of plant or animal.
1.37
The Primary Production Sector comprises the agriculture, horticulture, viticulture, forestry, and fishery industries.
1.38
A Risk Analysis is a process for evaluating the likelihood of entry, establishment and spread of pests or diseases in New Zealand, and associated potential biological or economic consequences.
1: MAF Biosecurity (part of MAF) is the lead agency for managing risks to New Zealand's biosecurity. It co-ordinates the Government's Biosecurity Programme that is referred to in this report as the Biosecurity Programme.
2: Further information on pest management strategies is included in paragraphs 6.116-6.124 on pages 108-109.
3: The 2001 Outbreak of Foot and Mouth Disease, National Audit Office Report HC 939 – 21 June 2002.
4: Ministry of Foreign Affairs and Trade – New Zealand External Trade Statistics December Year Ended 2001.
5: The large increase in the number of mail items in 1999-2000 is due to MAF including letters, in addition to parcels, in its inspections from this date.