What the OAG found at TWOA
Case study for students: Wānanga inquiry.
The OAG found practices at TWOA that were unacceptable for a public organisation. It said that the wānanga was continuing to operate like a small private organisation rather than the large public organisation it had grown to be.
Spending of public money
The OAG found that TWOA usually made business decisions in an informal and oral way, keeping few written records. Big expenses, including the purchase of a hotel, were often based on instinct rather than clear planning and analysis.
The wānanga usually selected contractors in a non-competitive way, without getting quotes from various suppliers. It once unnecessarily (in the OAG's view) contracted costly overseas consultants who were known to the fiancée of the Tumuaki (Chief Executive).
Some of TWOA's big projects went well over budget. In 2004, its budget for building projects and purchases was $10.1 million, but it spent $25.5 million. The wānanga also constructed buildings on land that it didn't own.
Conflicts of interest
The OAG found many conflicts of interest at TWOA that weren't declared or managed properly.
Personal connections
TWOA often employed or contracted family members – a practice widely seen as risky or involving 'nepotism' from a public sector perspective.
17 close relatives of the Tumuaki (Chief Executive) worked for TWOA or a company it owned. Two sons were senior managers at TWOA or closely related organisations.
Three of the Tumuaki's children and one brother owned companies that did business with TWOA. The value of business with his daughter was around $50 million over 3 years.
The Tumuaki's fiancée was an important contractor to TWOA.
Most of the family members were well qualified for their jobs. However, their positions were not always advertised, and sometimes no other applicants were considered.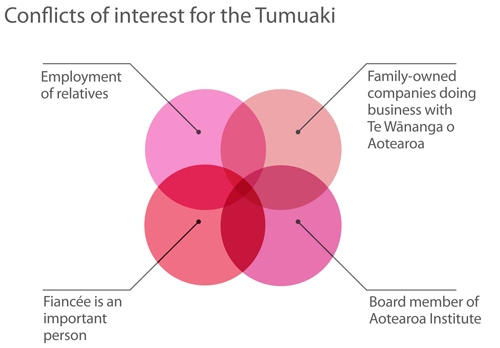 Relationship with AI Trust
The OAG said that, as a public organisation, TWOA was too closely linked to the private organisation Aotearoa Institute Trust Board (AI Trust), which had been involved in setting up the wānanga. Many of the same people were in the governing groups of both organisations. Business between the organisations included large sales, leases and loans. Few of these transactions were well assessed or documented.
The OAG said that TWOA depended too much on AI Trust, putting the wānanga at risk if the relationship ever weakened.
International travel
The OAG found that TWOA had good reasons for its international travel but did not document it well. Many trips didn't have proposals, budgets, approvals or full receipts. TWOA often didn't attempt to reconcile expenses (ensure that final costs matched receipts).
TWOA paid for two international trips that weren't business related. It also paid for the Tumuaki's fiancée to accompany him on many trips, some of them first-class.
The Tumuaki charged some personal expenses to his business credit card. In Cuba, he also withdrew cash from the business credit card, and he gave two cash donations to foreign officials.