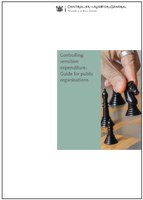 Our guide on controlling sensitive expenditure contains a wealth of useful information. 
The summarised information in this section is drawn from the guide:
We've created a set of slides and presenter notes that you can download and use to explain what sensitive expenditure is.
We also have Integrity Town - it features some engaging and useful videos that expand on the principles discussed in the guide.