Integrity and how to support it
Anyone managing public resources should do so with the utmost integrity. People demonstrate integrity when they consistently follow agreed moral and ethical principles.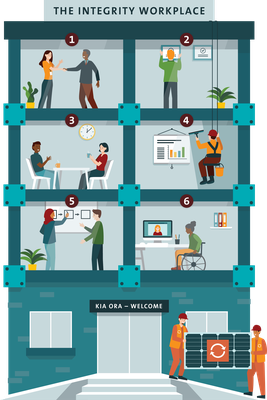 We've published a resource - Putting integrity at the core of how public organisations operate: An integrity framework for the public sector - to help support leaders throughout the wider public sector take a whole-of-organisation approach to building a culture of integrity in their organisations.
To guide people through the integrity framework, there's a simple interactive tool that explains the integrity workplace.
And for ease of reference, there's an A3 version of the framework that you can download and print.
More integrity resources
All of the good practice material in this section is useful for acting with integrity.
We're also building up a set of resources based in Integrity Town - so far, we have an online quiz about managing different types of conflicts of interest and a set of short videos about managing sensitive expenditure. 
Other agencies' resources
| | | |
| --- | --- | --- |
| Agency | Resources | Brief description |
| Department of the Prime Minister and Cabinet | Integrity and conduct throughout | Cabinet manual – provides the principles of public service and processes for upholding them. Also includes information on public servants making public comments about government policy and on contact between public servants and politicians. |
| Local Government New Zealand | Code of conduct template | Provides a template for local government Codes of Conduct. |
| Ministry of Business, Innovation and Employment | Procurement – managing conflicts of interest and confidentiality | Information to support the management of conflicts of interest and confidentiality throughout procurement processes. Includes a conflict of interest agreement template for a panel chairperson and for a panellist. |
| Ministry of Justice | Framework to create a fraud and corruption policy | Helps public and private organisations to prepare and improve policies and procedures. |
| New Zealand Government | Government procurement rules | Rules to help support good market engagement on procurement, which leads to better outcomes. Sets out the criteria for when the rules must be applied. |
| Ombudsman | Make a protected disclosure | Information on making a protected disclosure, including where to begin, the appropriate authorities, and confidentiality. |
| Serious Fraud Office | Counter Fraud Centre | The SFO's Counter Fraud Centre (CFC) works with the public sector to help improve counter fraud capability. Through the CFC portal agencies can access resources, guides, and join a community of practice with other fraud practitioners. |
| Te Kawa Mataaho Public Service Commission | | Sets out the minimum standards of integrity and conduct for Crown entity board members. |
| Te Kawa Mataaho Public Service Commission | Conflicts of interest | Model standards outlining the Commissioner's minimum expectations of staff and organisations for reporting and managing conflicts of interest. |
| Te Kawa Mataaho Public Service Commission | Chief executive gifts, benefits, and expenses | Standards setting out the Commissioner's expectations of chief executives when incurring expenses or accepting gifts or benefits. Includes guidance for staff when applying the standards. |
| Te Kawa Mataaho Public Service Commission | Speaking up | Model standards outlining the Commissioner's minimum expectations for organisations to support staff on speaking up about wrongdoing concerns that could damage the integrity of the State services. |
| Te Kawa Mataaho Public Service Commission | Standards of integrity and conduct | Sets out how everyone is expected to act when working in the state services. Issued under the State Sector Act 1988, section 57. |
| Te Kawa Mataaho Public Service Commission | Workforce assurance model standards | Provides standards for consideration of integrity and ethical behaviour when recruiting. |
Page last updated: 22 May 2023