Responding to Covid-19: Holding on to integrity in uncertain times
July's Leaders Integrity Forum was held at the Government's Auckland Policy Office for the first time. Senior Policy Advisor Kirstin Semmens lets us know what was discussed.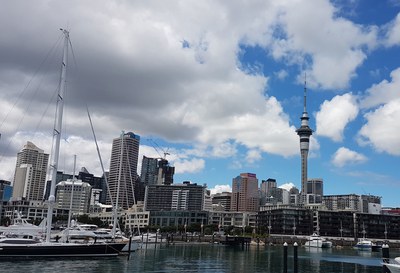 As the country once again moves into Level 4 lockdown, I reflect on the challenges of Covid-19 in terms of the ongoing uncertainty it presents.
That was a point of discussion at July's Leaders Integrity Forum, which was held at the Government's Auckland Policy Office. The Auckland Policy Office, established in 2005, leads policy development on a wide range of Auckland-specific and national policy issues.
The theme for the session was "integrity through uncertainty". We had two speakers come and share their experience leading their organisations through Covid-19 in Auckland. Auckland has experienced more Covid-19 cases and lockdowns than any other region in the country, and I looked forward to hearing what they had to say.
The chairperson for the forum, John Ryan (Controller and Auditor-General), noted in his introduction that integrity is critical to maintaining the public's trust in the public service. Trust is based on three expectations – competence, reliability, and honesty. In other words, in order to earn and maintain our trust, we expect public organisations to reliably deliver what they're set up to do and be honest when doing so.
The Government's response to Covid-19 required the public to have a high degree of trust in public organisations. Critical decisions, such as restricting people's movement, were unprecedented. Without the public's trust, this would have been very difficult to carry out. Of course, with unprecedented powers comes the need for checks and balances on those powers.
The first speaker was Meg Poutasi (Chief of Strategy, Auckland District Health Board). Meg reflected on how the Northern Region DHBs (Northland, Waitematā, Auckland, and Counties Manukau) responded to Covid-19 and the importance of operating with integrity. Meg talked about what you need to have in place to make good decisions quickly while maintaining checks and balances to ensure the integrity of the response.
The Northern Region public health units (part of the DHB system) have experience responding quickly to outbreaks of infectious disease and large-scale emergency situations. In 2019, the public health units managed the response to a significant measles outbreak. In health emergency responses, DHBs regularly form part of an incident management system. With this level of experience in place, they could quickly stand up for the Covid-19 response, albeit on a larger scale.
Meg noted that a relatively flat command and control structure allowed for quick decision-making in a fast-moving and evolving situation. Structures and processes also need to be flexible enough to consider other factors such as advances in science that may affect a response, depending on the nature of the emergency.
From an integrity and accountability perspective, Meg talked about the importance of maintaining a good record of decision-making. Although DHBs were given wide powers to respond to Covid-19, it was important that they carried out adequate checks and balances to support the integrity of their decision-making.
Meg also reflected on the importance of having an equity lens on the response. The Northern Region DHBs recognised that some communities were more severely affected by Covid-19 impacts and lockdowns than others. The DHBs worked closely with social sector agencies to share information and respond to Covid-19 impacts together. This information sharing has supported better targeting of the health response, particularly as Covid-19 has progressed.
The combined response between health and social agencies illustrates the importance of having well-established relationships with other organisations and community groups. Trust between agencies, and in the information shared, resulted in better informed and faster decision-making.
Fundamental to everything is the DHBs' staff. The willingness of individuals to step up and volunteer to take on additional work or different functions was critical. Meg stressed the need to look after your people, particularly given the ongoing nature of the response, to support their well-being and sustain them for the long term.  
Our second speaker Mark Goldsmith (Regional Commissioner Auckland, Ministry of Social Development) started by recounting a phone conversation he had early in the Government's response to Covid-19. It was clear the scale of what they would be dealing with was significant and beyond the norm. 
The Ministry of Social Development was used to dealing with emergency situations, including responding to natural disasters. This meant the Ministry could move to its incident management structure quickly to manage the response. Mark noted that good relationships, good information, and good people were critical.
Direct financial and resource support was essential for lessening the impact of Covid-19 and reducing the risk of social unrest. People needed to know that, despite the lockdowns, they could still put food on the table and pay rent. When it came to supporting businesses, it was about the Ministry recognising when they were in real distress and how, through its services, it could offer aid.
Rolling out the Wage Subsidy Scheme was an enormous work programme, requiring the secondment of staff from across the Ministry to process applications. Mark noted the importance of "soft" information (i.e., information from businesses about how they were feeling and the pressures they were under) to provide context for the impact of policy decisions being made.
Mark stressed the importance of having ongoing good relationships with community groups that you can draw on in an emergency. This includes partnering with foodbanks and marae and looking more strategically at the long-term provision of services to consider better ways of delivering them.
He identified a need to improve organisational relationships with particular communities such as Māori and Pasifika communities. Engagement with different communities improved during the early stages of the Covid-19 response. This will help improve the Ministry's long-term relationships with, and services to, these communities.
Mark said that much of the response wasn't about implementing new or specific types of assistance. It was about identifying where that assistance was needed and ensuring that people were aware that the assistance was available. Sometimes the Ministry's role was to make connections, for example helping staff move from industries significantly affected by the pandemic (such as airlines) into industries requiring staff urgently (such as supermarkets).
The efforts of the Ministry's staff were critical in the response. Mark echoed Meg's point that management needs to put time and effort into looking after their staff for the longer term.
In his concluding comments, John noted the importance of leadership in a crisis situation and of the need to be ready to listen and respond. John acknowledged that the Auckland public sector has had to work through the biggest effects of Covid-19 to date, and that both speakers had clearly demonstrated great leadership abilities throughout.
I was encouraged to hear our speakers talk about the value of public sector organisations developing and maintaining good ongoing relationships with community groups and other organisations, and the importance of this in creating new opportunities for improved longer-term delivery of services.