Part 1: About us
Annual report 2019/20.
Our role, purpose, and values
The Controller and Auditor-General (the Auditor-General) is an Officer of Parliament. The role is an important part of the constitutional framework in New Zealand. The role exists because the ultimate authority for all public sector activity stems from Parliament.
As a key pillar of the national integrity system, we aim to increase trust and confidence in the public sector and in government.
Our purpose is improving trust, promoting value in the public sector.
The values that we uphold and that underpin everything we do are:
People matter;
Our independence is critical;
We act with integrity and courage; and
We're here to make a difference.
The outcomes we seek
The ultimate outcome we seek is that Parliament and New Zealanders have trust and confidence in the public sector. For this to be achieved, the public sector has to be high performing and accountable. Relevant and reliable information is critical to holding the public sector to account. Everything we do is directed towards achieving these outcomes (see our performance framework below).
Our vision is of a high-performing and trusted public sector.
No other organisation, public or private, has the overview of the whole public sector that we have. As the auditor of every public entity, we have an ongoing role with each of them. This gives us a unique position from which to influence improvements both in the public sector's performance and in the management and accountability systems under which the public sector operates.
Our performance framework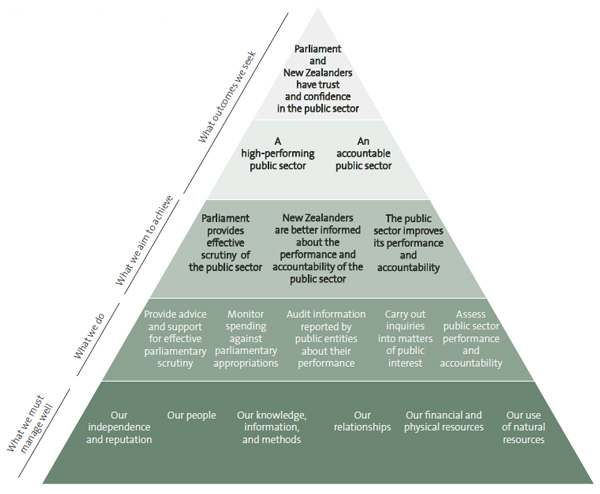 The key strategic risks we manage
Our key strategic risks are:
Loss of independence;
Audit failure;
Loss of capability; and
Loss of reputation.
We manage these key risks through the processes that support our work. In addition, our Audit and Risk Committee provides further insight and advice to help us identify and manage risk. The Committee's report for the year ended 30 June 2020 is included as Appendix 1.
How we are organised
The Auditor-General's work is carried out by about 420 staff in two business units – the Office of the Auditor-General (OAG) and Audit New Zealand – supported by our shared Corporate Services Team.
We also contract audit service providers from the private sector to carry out some audits on the Auditor-General's behalf. These four groups, together with the Auditor-General and the Deputy Auditor-General, are collectively referred to as "the Office", as shown in the diagram below.
The Auditor-General and the Deputy Auditor-General lead the Office's Combined Leadership Team, which consists of the Auditor-General, the Deputy Auditor-General, Assistant Auditors-General, the Executive Director of Audit New Zealand, and the General Manager for Professional Practices and the General Manager for Operations in Audit New Zealand. Collectively, this team is responsible for setting and guiding the Office's strategic direction.
Our organisational structure
Controller and Auditor-General and Deputy Controller and Auditor-General
Office of the Auditor-General
Audit New Zealand
Contracted audit service providers
Strategy and Communications Group
Sector Performance Group
Professional Practices
Legal, Policy, and Inquiries Group
Parliamentary Group
Operations
Audit Quality Group
Local Government Group
Specialist Audit and Assurance Services
Corporate Services Team
What we do
The Office has a range of functions that help Parliament and the public hold public organisations to account for their use of public money. Annual audits of public organisations are our core work, consuming nearly 85% of our resources.
We use the rest of our resources to provide advice and support to select committees for their effective scrutiny of public organisations, to monitor expenditure against parliamentary appropriations (our Controller function), to carry out inquiries (where we consider the appropriateness of the behaviour of public organisations and their use of resources), and carry out performance audits (where we look at the effectiveness of spending by public organisations) and special studies (where we seek to research and publish information that will benefit public sector performance and accountability). In Part 3, we provide more information about our services and performance for the work we delivered.
We also make a considerable contribution to the audit community internationally, and we have a work programme in place on sharing good practice. Both of these areas of work are described in more detail below.
Our international contribution
We are active members of the International Organisation of Supreme Audit Institutions (INTOSAI) and the Global Audit Leadership Forum. We take part in international efforts to develop guidance and standards, and a senior member of our staff represents New Zealand on the International Public Sector Accounting Standards Board.
Our largest international time and resource commitments are to the Pacific Association of Supreme Audit Institutions (PASAI), which is the regional body of INTOSAI focused on the Pacific. The Auditor-General of New Zealand is the Secretary-General of PASAI.
Through our commitment to PASAI, we support accountability, transparency, and good governance in the Pacific, which in turn helps to ensure stability in the Pacific and accountability for the resources that New Zealand invests in the region. In August 2019, we signed a new five-year funding agreement with the Ministry of Foreign Affairs and Trade to enable our work with PASAI to continue.
We are privileged to have twinning relationships with the Audit Office of Samoa and the Cook Islands Audit Office. These relationships provide specific support and development opportunities for staff in these offices to work closely with our staff, both in New Zealand and in their home countries.
The Auditor-General is also the Auditor-General of Niue and Tokelau under their respective accountability arrangements.
Sharing good practice
We are carrying out a work programme to review and update our suite of good practice material along with identifying new topics that could help public organisations to improve.
We continued our focus on integrity and ethics and started work on developing a framework that will help public organisations to understand the critical elements that underpin integrity within an organisation. We have held a number of workshops and forums with public organisations to discuss and test our thinking.
This year we updated our good practice guides Managing conflicts of interest: A guide for the public sector and Guidance for members of local authorities about the Local Authorities (Members' Interests) Act 1968. We also progressed work on updating our guides Charging fees for public sector goods and services and Controlling sensitive expenditure: Guidelines for public entities.
To support the work on integrity and our new guidelines, the good practice section of our website on conflicts of interest now includes "Integrity Town", which has been developed as a training resource. It includes an interactive quiz to support public organisations to build knowledge and understanding of how to manage conflicts of interest.