Part 8: Negotiating and awarding contracts
Introducing our work about procurement.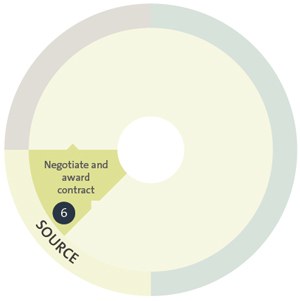 8.1
The sixth stage in the procurement life cycle is negotiating the terms and conditions of a contract, establishing and agreeing to levels of service with the supplier, and providing feedback to both successful and unsuccessful suppliers.
8.2
Public organisations should establish a clear negotiating mandate, plan how they are going to negotiate the contract's terms and conditions, and understand what they can move on and what the "non-negotiable" items are. They should also ensure that the negotiations meet standards of fairness; for example, not negotiating a contract that is substantially different from what was tendered.
8.3
A careful and informed approach to contract negotiation can ensure that public organisations meet their objectives and appropriately manage their risk.
8.4
It is also important that the contract negotiations result in a shared understanding of what the procurement will deliver. This allows the public organisation to monitor supplier performance and also allows the public organisation to check that contractual commitments have been met.
8.5
This is an important part of the procurement process and we will consider it in our annual audit work where relevant and appropriate. We will continue to examine public organisations' policies and practices for awarding contracts as part of our annual audit work, particularly for public organisations that do a significant amount of procurement.