37. In the most recent incident of fraud or corruption within your organisation that you are aware of, how was it detected?
Public Sector Fraud Awareness Survey - Findings: Incidents of fraud.
Observation:
PwC comment:
A quarter of the frauds were detected by some form of tip-off. This reinforces our view that organisations should consider having a formal whistleblower system that allows staff to report their concerns – anonymously if necessary.
Respondents could select more than one answer for this question.
Of the 22.5% of respondents who were aware of at least one incident of fraud in their organisation, most incidents were detected by internal controls (45%) and as a result of an internal tip-off (25%).  Of all the methods of fraud detection, external audit was the least likely method to detect fraud.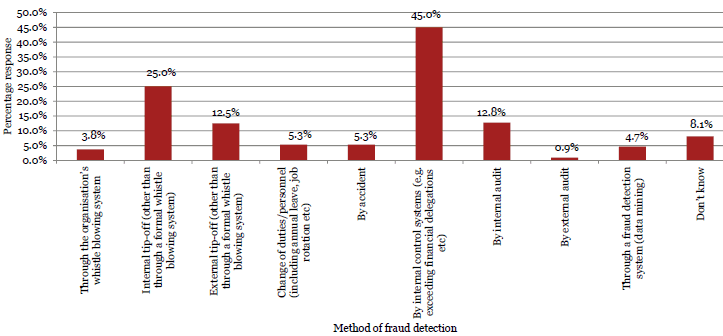 Note:
To help simplify the detailed tables, which depict the responses by sector, the methods of fraud detection are in five groups:
1. Whistleblowing or tip-off, encapsulating:
Through the organisation whistleblowing system
Internal tip-off (not whistleblower)
External tip-off (not whistleblower)
2. Changes of duties or personnel
3. By internal control systems (e.g. exceeding financial delegation)
4. Internal/external audit or fraud detection systems, encapsulating:
Internal audit
External audit
Through a fraud detection system (data-mining)
5. By accident
Some other examples provided by respondents:
"Utilisation of security camera"
"Call back to customer"
"Reviewing of staff email accounts following tip off"
"Manager noticed document damage in expense claim, checked previous claims and discovered same damage, so investigated further"
"An external inquiry prompted the employee's manager to look at the file and the altered document was found, together with the new colour photocopy."
 
Whistle blowing or tip-off
Changes of duties or personnel
Internal control systems
Internal / external audit or fraud detection system
By accident
Don't know
Total
Central Government
 
 
 
 
 
 
 
 
 
 
 
 
 
Autonomous Crown Entities
3
23%
2
15%
7
54%
1
8%
0
0%
0
0%
13
Central Government - Other
3
25%
1
8%
4
33%
1
8%
1
8%
2
17%
12
Crown Agents or Companies 
10
34%
3
10%
11
38%
3
10%
0
0%
2
7%
29
Crown Research Institutes
0
0%
0
0%
2
100%
0
0%
0
0%
0
0%
2
District Health Boards
10
32%
2
6%
10
32%
7
23%
1
3%
1
3%
31
Government Departments
23
33%
2
3%
27
39%
9
13%
4
6%
5
7%
70
Independent Crown Entities
0
0%
0
0%
0
0%
0
0%
0
0%
0
#0%
0
Māori Trust Boards
3
75%
0
0%
1
25%
0
0%
0
0%
0
0%
4
Rural Education Activities Programmes
1
50%
0
0%
1
50%
0
0%
0
0%
0
0%
2
State-Owned Enterprises
7
27%
0
0%
7
27%
8
31%
1
4%
3
12%
26
Tertiary Education Institutions
16
44%
1
3%
14
39%
2
6%
2
6%
1
3%
36
Sub-Total
76
34%
11
5%
84
37%
31
14%
9
4%
14
6%
225
 
Whistle blowing or tip-off
Changes of duties or personnel
Internal control systems
Internal / external audit or fraud detection system
By accident
Don't know
Total
Local Government
 
 
 
 
 
 
 
 
 
 
 
 
 
Airports
2
40%
0
0%
1
20%
0
0%
1
20%
1
20%
5
Council Controlled Organisations or Council Controlled Trading Organisations
3
18%
0
0%
7
41%
3
18%
1
6%
3
18%
17
Energy Companies
4
25%
0
0%
8
50%
2
13%
1
6%
1
6%
16
Fish and Game Councils
0
0%
0
0%
1
100%
0
0%
0
0%
0
0%
1
Licensing and Community Trusts
0
0%
1
17%
3
50%
2
33%
0
0%
0
0%
6
Local Authorities
36
49%
3
4%
16
22%
9
12%
2
3%
7
10%
73
Local Government - Other 
0
0%
0
0%
0
0%
0
0%
0
0%
0
#0%
0
Port Companies
0
0%
0
0%
0
0%
0
0%
0
0%
0
#0%
0
Sub-Total
45
38%
4
3%
36
31%
16
14%
5
4%
12
10%
118
 
 
 
 
 
 
 
 
 
 
 
 
 
 
Schools
11
21%
2
4%
24
46%
12
23%
3
6%
0
0%
52
Total
132
33%
17
4%
144
36%
59
15%
17
4%
26
7%
395
page top