17. The culture at my organisation is such that I would be willing to raise any concerns that I may have regarding fraud or corruption and I know that my concerns will be taken seriously and I would not suffer any retaliation.
Public Sector Fraud Awareness Survey - Findings: Fraud detection.
Observation: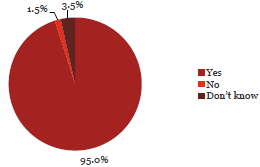 95% indicated that they worked in a sufficiently safe environment in which to raise concerns.
Like the previous question, confidence was high across all positions and sectors that organisations did encourage staff to come forward and report their concerns for fraud.
What some respondents have said:
"I'm not aware of all of the options for reporting fraud, but it's not something I've ever seen here and so I'm not overly concerned about it. If I was concerned about something I think that I would feel comfortable expressing my concerns."
"I believe we have a good culture in relation to preventing and reporting of potential or actual fraud."
PwC comment:
Combating fraud is everyone's responsibility. However, managers have an additional obligation to ensure strategies are in place that allow staff to report their concerns, in a manner that ensures that all good faith reports will be treated seriously and investigated thoroughly. The conduits can be internal, external or both.
"It is poor and there have been a number of things that senior management are aware off but have not followed through with an investigation. They don't take it seriously or see the flow on effects."
"As personal circumstances are challenged staff may resort to fraudulent acts. A staff member has come forward to self report a time when she felt that she was tempted to try and use her fuel card for her own use because of her personal circumstances. This was checked but we found that no fraud had been committed."
 
Yes
No
Don't know
Total Count
Chief Executive Officer/Managing Director/Principal
379
99%
0
0%
4
1%
383
Member of the senior executive/leadership team or equivalent
470
96%
8
2%
12
2%
490
Line manager (if not one of the above)
205
94%
6
3%
8
4%
219
Administration/Support Services
185
93%
3
2%
12
6%
200
Operational staff (e.g. Teacher, Analyst, Advisor, Technician, Officer, Engineer, Accountant)
118
87%
4
3%
14
10%
136
Total
1,357
95%
21
1%
50
4%
1,428
 
Yes
No
Don't know
Total Count
Central Government
 
 
 
 
 
 
 
Autonomous Crown Entities
53
98%
1
2%
0
0%
54
Central Government - Other
45
100%
0
0%
0
0%
45
Crown Agents or Companies
85
98%
0
0%
2
2%
87
Crown Research Institutes
37
97%
0
0%
1
3%
38
District Health Boards
62
89%
3
4%
5
7%
70
Government Departments
138
95%
3
2%
5
3%
146
Independent Crown Entities
36
97%
0
0%
1
3%
37
Māori Trust Boards
11
100%
0
0%
0
0%
11
Rural Education Activities Programmes
11
100%
0
0%
0
0%
11
State-Owned Enterprises
44
94%
1
2%
2
4%
47
Tertiary Education Institutions
82
90%
4
4%
5
5%
91
Sub-Total
604
95%
12
2%
21
3%
637
 
Yes
No
Don't know
Total Count
Local Government
 
 
 
 
 
 
 
Airports
16
84%
0
0%
3
16%
19
Council Controlled Organisations or Council Controlled Trading Organisations
74
99%
0
0%
1
1%
75
Energy Companies
26
93%
0
0%
2
7%
28
Fish and Game Councils
8
100%
0
0%
0
0%
8
Licensing and Community Trusts
9
100%
0
0%
0
0%
9
Local Authorities
154
91%
5
3%
10
6%
169
Local Government - Other
11
100%
0
0%
0
0%
11
Port Companies
2
100%
0
0%
0
0%
2
Sub-Total
300
93%
5
2%
16
5%
321
 
 
 
 
 
 
 
 
Schools
453
96%
4
1%
13
3%
470
Total
1,357
95%
21
1%
50
4%
1,428
page top